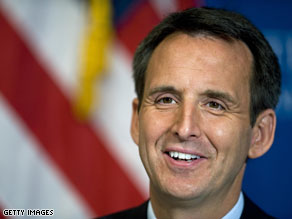 . Tim Pawlenty is rolling out a new political action committee on Thursday and announcing a fleet of new advisers.
WASHINGTON (CNN) - Gov. Tim Pawlenty is rolling out a new political action committee on Thursday and announcing a fleet of new advisers - the first concrete signs that the Minnesota Republican is actively working towards a presidential bid in 2012.
Pawlenty's PAC, called "Freedom First," has the ostensible goal of helping to "elect conservatives in 2009 and 2010." But the genial governor is also flexing some political muscle with his new organization by signing up a number veteran Washington hands, several of whom advised Pawlenty's likely 2012 rival - former Massachusetts governor Mitt Romney - during his 2008 presidential bid.
"Right now, our freedoms are being challenged on many fronts," Pawlenty said in a statement. "This organization is dedicated to putting freedom first again in America. By helping candidates and translating our ideas into policies that everyone can relate to and support, we can turn back the growth of Washington and renew the promise of freedom."
Pawlenty will hold his first "Freedom First" fundraiser in Washington in late October, an aide said, followed by another "major" fundraising event in Minneapolis on Nov. 4.
The PAC will be chaired by a pair of GOP heavy hitters - William Strong, a Morgan Stanley vice chairman who was a top donor to George W. Bush and John McCain, and former Minnesota Rep. Vin Weber, who advised Romney in 2008.
But the day-to-day planning of the committee will be managed by former Republican Governors Association executive director Phil Musser, former Bush-Cheney 2004 political director Terry Nelson, and former Bush White House political director Sara Taylor.
Heading up communications strategy will be Alex Conant, a former Republican National Committee spokesman and Minnesota native who has been volunteering for Pawlenty throughout the year as he's traveled the country meeting with Republican groups.
The PAC is also accompanied by a new Web presence, TimPawlenty.com, that will be managed by Patrick Ruffini, Mindy Finn, Patrick Hynes and Liz Mair, four of the GOP's most respected new media strategists.
Pawlenty convened a conference call with conservative bloggers early Thursday morning as part of the rollout.