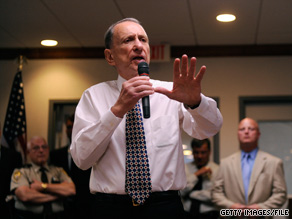 A new poll of Pennsylvania voters indicates that Sen. Arlen Specter's appoval rating continues to drop.
(CNN) - A new poll of Pennsylvania voters indicates that Sen. Arlen Specter's appoval rating continues to drop.
According to a Quinnipiac University survey released Thursday morning, 44 percent of Pennsylvanians questioned approve of Specter's job as senator, with 48 percent saying they disapprove. That 44 percent approval rating is down 12 points from early May, soon after the longtime Republican switched his party identity from Republican to Democrat.
Specter is up for re-election next year and the poll suggests he continues to be deadlocked with his Republican challenger, Pat Toomey - a former congressman and former head of the Club for Growth, a limited-government, anti-tax organization.
Forty-three percent of people questioned say they'd back Toomey, with 42 percent supporting Specter. That's similar to a survey in July, but in early May Specter held a 20 point lead over his less well known opponent.
Toomey was leading Specter in polls of a hypothetical Republican Senate primary earlier this year, before Specter became a Democrat. Specter said then the difficulty in winning the Republican primary was a factor in his decision to switch parties.
"Toomey and Specter are neck and neck in what could be a 13-month horse race. Specter has more than enough time to reverse his fortunes, but being tied with the relatively unknown Toomey is evidence that this election has become a referendum on Specter, says Peter Brown, assistant director of the Quinnipiac University Polling Institute.
The survey indicates that Specter, first elected to the Senate in 1980, leads his Democratic challenger, Rep. Joe Sestak, a former Navy admiral, 44 percent to 25 percent. But that 19 point lead is down from a 32 point margin in July.
The White House supported Specter when he switched parties. President Barack Obama headlined a fundraiser for Specter in September and Vice President Joe Biden teams up with the senator at a Democratic party dinner Friday night in Bucks County, Pennsylvania.
The survey indicates that Obama's approval rating as president has dropped to 49 percent among Keystone state voters.
The Quinnipiac University poll was conducted September 22-28, with 1,100 Pennsylvania voters questioned by telephone. The survey's sampling error is plus or minus 3 percentage points.