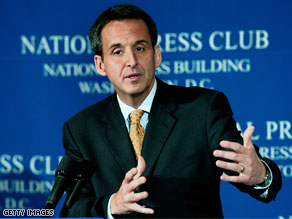 Pawlenty launched his new PAC on Thursday.
WASHINGTON (CNN) - Minnesota Gov. Tim Pawlenty will hold the first fundraiser for his new political action committee on Oct. 22 at the Capitol Hill home of lobbyist John Milne and his wife Deb Anderson, according to a copy of the invitation provided to CNN.
The invite to the Washington dinner asks guests to contribute or raise $5,000 to be named a "Leadership Team Member" for Pawlenty's "Freedom First" PAC, his newly-created political organization awash with veteran GOP operatives who are advising the governor as he eyes a presidential bid in 2012.
The dinner will be preceded by a low-dollar reception at a nearby restaurant, where supporters can contribute a minimum of $50 for the chance to meet Pawlenty and pose for photos. Hill staffers, the invitation reads, get in with a half-price discount.
The low-dollar gathering at Capitol City Brewing Company is being billed as a "Pretzels & Pints" with Pawlenty - a friendly title suggesting a slightly lower calorie count than the "Sundaes with Mitt" fundraiser hosted in Washington last month by former Massachusetts governor Mitt Romney, another 2012 contender.
The D.C. events will be followed on Nov. 4 by what an aide called Pawlenty's first "major" fundraiser in Minneapolis.