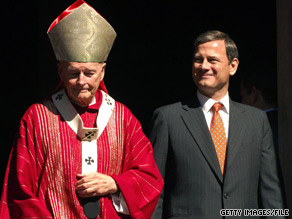 Cardinal Theodore McCarrick and Chief Justice John Roberts attend Red Mass in 2005.
WASHINGTON (CNN) - The beautifully ornate Catholic church in the nation's capital has seen its share of history and controversy.
In 1963, the Cathedral of St. Matthew the Apostle was the site of John F. Kennedy's funeral. After the service, on the steps outside, the slain president's young son famously saluted his father's memory.
But the church is also the site of an annual Mass that has drawn criticism for what many see as an unhealthy mix of politics, the law and religion.
Washington's annual Red Mass, which celebrates the legal profession, will be held this year on Sunday, October 4 - the day before the Supreme Court begins its new term. Several justices traditionally attend, along with congressional leaders, diplomats, cabinet secretaries and other dignitaries.
Past presidents have also attended, though there is no word yet on whether President Obama will appear.