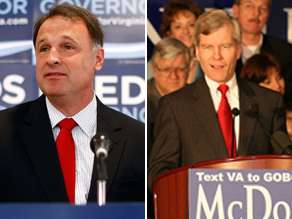 The competitive gubernatorial race in Virginia is set to be showered with $1 million cash from the DNC.
(CNN) - The competitive gubernatorial race in Virginia is set to be showered with $1 million cash at the behest of Democratic National Committee Chairman and current Virginia Gov. Tim Kaine, CNN has confirmed.
The DNC, which for months has heavily focused on this off year gubernatorial race as well as that in New Jersey, has already pumped $5 million into the contest that appears to be getting tighter as Election Day looms.
A Democratic loss in either the Virginia race or that in New Jersey, where Republican challenger Chris Christie appears to have a slight edge over incumbent Jon Corzine, is likely to be seen as a referendum on President Barack Obama's polices a year after he was elected. A victory in either state could also give the GOP instant momentum heading into the 2010 midterm election season.
Republicans have equally showered the Commonwealth with campaign cash over the last several months, sending nearly $7 million to GOP candidate Bob McDonnell's bid in part to fend off attacks over his 20 year-old masters thesis that partially criticized working women.
McDonnell was also the beneficiary of a $350,000 cash haul last Monday thanks to a pair of fundraisers headlined by GOP stars Newt Gingrich and Bobby Jindal.
The DNC is also set to dispatch staffers across the state to beef-up grass roots and turn out efforts the party utilized so effectively in the state on Election Day last year. Turnout is expected to be considerably less than last year, when Obama was on the ballot, a fact that could favor McDonnell's effort.
A recent Washington Post poll suggests McDonnell maintains a 4 point edge of Deeds, 51 to 57 percent. That poll was conducted September 15-17 and carries a sampling error of plus or mine 3 three percentage points.