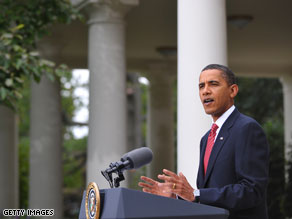 Obama to be keynote speaker at HRC dinner.
WASHINGTON (CNN ) - President Obama will speak at the Human Rights Campaign's annual dinner in Washington this weekend, the White House said Monday.
The president, who has faced complaints from liberals over his administration's failure thus far to end the "Don't Ask, Don't Tell" policy that prohibits openly gay men and lesbians from serving in the military, will be the second president to address the nation's largest gay rights group - Bill Clinton was the first, in 1997. Obama's comments will come the day before a major rally in Washington by critics of that policy.
Also appearing at the dinner: Lady Gaga, the cast of Glee, and Broadway star Gavin Creel.