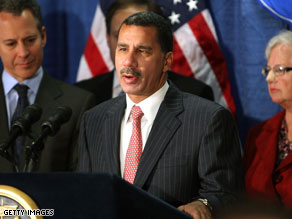 Paterson challenges potential foes
(CNN) -New York Gov. David Paterson is calling on potential challengers to lay their cards on the table.
"I keep hearing about all these people who are running for office," said Paterson during an appearance on CNBC's "Squawk Box" Monday morning. "If you had any courage, if you wanted to become a leader in a crisis, get up and say what you'd do now."
When Paterson was asked if he had anyone in mind, such as New York State Attorney General Andrew Cuomo or former New York City Mayor Rudy Giuliani, the governor said said he wasn't talking about anybody in particular.
"When all these phantom people who say they're running for governor get into this race, they are going to have to same questions I've been answering for 18 months," added Paterson. "If they wanted to show that they were different and exciting and would make Albany a different place, why don't they answer those questions now."
Polls of New York State voters suggest that Andrew Cuomo, the son of former New York Gov. Mario Cuomo, leads Paterson by a greater than 2 to 1 margin in a hypothetical 2010 Democratic primary matchup. Publicly, Cuomo has said he's running for re-election next year as attorney general.
Surveys also indicate that Giuliani, who ran for the 2008 Republican presidential nomination, leads Paterson by double digits in a hypothetical general election matchup. Giuliani has said he'll decide on a gubernatorial bid later this year.
Paterson, who was lieutenant governor when a scandal led to then-Gov. Eliot Spitzer's departure from the office in March 2008, has said he's running next year for a full term as governor next year.
Last month, the New York Times reported that the White House was urging Paterson to withdraw. The White House has neither confirmed nor denied the story. But sources told CNN that White House Political Director Patrick Gaspard met early last month with Paterson, one of only two African-American governors, to let him know about the administration's concerns he could not win the governor's race next year - a problem that could affect races down-ticket.
–CNN Deputy Political Director Paul Steinhauser contributed to this report