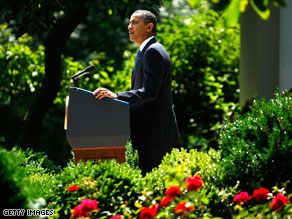 Gloria Borger says President Obama is trying to fix problems that have gone untouched for decades.
Editor's note: Gloria Borger is a senior political analyst for CNN, appearing regularly on CNN's "The Situation Room," "Campbell Brown," "AC360°" and "State of the Union With John King" as well as other programs during special event coverage.
(CNN) - In my next life, I'd like to be an opposition party leader. What fun to go to work every day knowing you will always be right, largely because your ideas will remain untested.
So you propose theories to your heart's content, with vague plans and proposals guaranteed to make any voter smile. If we were in charge, you sing, the people would have tax cuts! More money in their pockets! And no deficits! But more jobs!
And, oh, what about the great pleasure of taking on the poor guy who won? On any particular day, the president is either a socialist (health care), a captive of environmental greenies (climate change) or a dithering commander in chief who disagrees with his generals and can't make up his mind (Afghanistan). Name-calling. Can't beat that for a job.
All the while, you - the "serious" opposition - continue to intone to the public "we want to work with him, of course."
Of course, you don't.