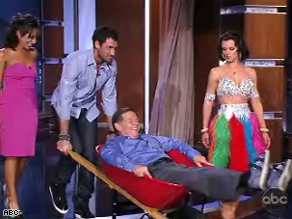 An injured DeLay had to call it quits on Dancing with the Stars Tuesday night.
(CNN) - Tom DeLay's dancing days have come to an end.
While miraculously escaping another round of elimination on ABC's "Dancing with the Stars" Tuesday night, the former Republican House majority leader voluntarily withdrew from the widely-watched competition on recommendations from his doctor and the show's producers.
The man once known as "The Hammer" on Capitol Hill said he was just too injured to continue, developing stress fractures in both his feet that made it very difficult to endure the rigors of the competition.
Delay originally remained defiant in the face of such pain, declaring last week, "nothing's going to stop me from doing this dance." But this week's round of competition proved too taxing on the 62 year-old, evidenced by a wince-inducing performance Monday of the samba to War's "Why can't we be friends."
In the end, the man who gave in to few fights in Washington had to call it quits on the ABC hit series.
"If you can't practice, you make a fool of yourself out here," DeLay said. "I don't want to do that to [my dancing partner] Cheryl."
Carried out on wheelbarrow on "Jimmy Kimmel Live" Tuesday night, DeLay appeared slightly embarrassed over the development: "A boy from Texas breaking his feet dancing...," he said to laughter.
Still though, DeLay remained confident his skills could have carried him forward.
"Can you shake your booty like I can?" Delay asked a skeptical Kimmel.
Asked if he his performance will inspire other indicted politicians to dance, Delay - who was charged with criminal violations of state campaign finance laws but never convicted - said "hey, it keeps you out of jail."
"But God for bid if you end up in jail, it's not a good thing for the inmates to see on reruns," Kimmel replied.