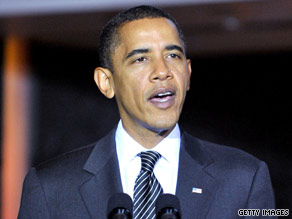 President Obama is weighing whether to send an additional 40,000 troops to Afghanistan.
WASHINGTON (CNN) - A day after meeting with congressional leaders from both parties, President Obama sat down Wednesday afternoon with his national security team, the third of five meetings on U.S. strategy toward Afghanistan and Pakistan.
Rising violence and the resurgence of Taliban and al Qaeda forces in Afghanistan have put the Obama administration on defense as the war enters its ninth year.
The war has claimed the lives of 865 Americans and 570 allied troops, and U.S. public support for the conflict has slipped sharply in the past two years. There are 68,000 troops in the country now.
The White House has been working with Gen. Stanley McChrystal, the top commander in Afghanistan, who is expected to call for 40,000 more troops to carry out a counterinsurgency strategy.
It's a proposal that top Republicans and some moderate-to-conservative Democrats who attended the meeting agree with. Rep. Ike Skelton, D-Missouri, said Obama should approve the proposal.
"I really think that the president's going to have to listen to Gen. McChrystal. He's his man. He's his pick," Skelton said. "This is a matter of national security."
Rep. Peter Hoekstra, R-Michigan, said Wednesday that whatever the president decides, he must lead "boldly in a mission that needs to be successful, outline his case to the American people and then align all of our resources ... to execute the strategy that he selects."