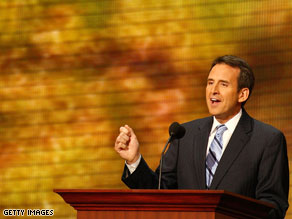 Minnesota Gov. Tim Pawlenty will host a GOP fundraiser in Iowa on November 7.
WASHINGTON (CNN) - Minnesota Gov. Tim Pawlenty will be the keynote speaker at an Iowa Republican Party fundraiser on November 7, kicking off the party's primary season battle for the governor's mansion in that state, and stirring speculation he is planning a presidential run in 2012.
In July, the Iowa Republican Party told CNN they had been courting former Alaska governor and vice presidential nominee Sarah Palin to headline the annual dinner. Around that time, the party also extended an invitation to Pawlenty, Republican Party chair Matt Strawn told CNN Wednesday.
"We've got an open invitation to Sarah Palin whenever she wants to come to Iowa," Republican Party Executive Director Jeff Boeyink told CNN Wednesday. But, he added, "we are thrilled to get Tim Pawlenty to headline our event."
Tickets to the annual "Leadership for Iowa" event being held on the Iowa State Fairgrounds are being sold for $25. The party expects between 500 and 1,000 attendees.
The Minnesota DFL accused Pawlenty Wednesday of neglecting his state duties in favor of his political ambition.
"Spending most of his time on the road these days, Governor Pawlenty's more-of-the-same mentality and personal ambitions have made him little more than a suave hit man pandering to right-wing extremists," DFL Chair Brian Melendez said in a statement Wednesay.
So far, 11 candidates have announced their intention to run against incumbent Democratic Gov. Chet Culver next year.
Pawlenty, who has become a regular critic of the Obama administration, debuted a new political action committee  last week, a step that takes him closer to a potential 2012 White House bid.
Other possible 2012 candidates to pass through the state recently include Louisiana Gov. Bobby Jindal, Mississippi Gov. Haley Barbour, former presidential candidate Mike Huckabee  , who won the states caucuses last year.
The gubernatorial primary will be held on June 8, 2010.
–CNN Political Producer Peter Hamby contributed to this report.