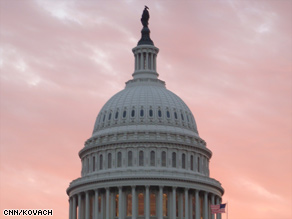 The CNN Washington Bureau's morning speed read of the top stories making news from around the country and the world.
WASHINGTON/POLITICAL
For the latest political news: www.CNNPolitics.com.
CNN: Key health care vote to be delayed, sources say
A key congressional committee vote on health care reform, originally expected as early as Tuesday, is now likely to be pushed back several days, according to two Democratic staffers.
CNN: Democrats vow to ban domestic violence as 'pre-existing condition'
Top House Democrats on Tuesday slammed insurers who claim that domestic violence is a pre-existing condition that can be used to deny coverage to battered women.
McClatchy: Health care facts: Women pay more for health insurance
Women of child-bearing age routinely pay more for health care because they're women. If they're pregnant, they can be legally denied coverage.
New York Times: 4 Senators' Concerns Reflect Health Care Challenge
Senator John D. Rockefeller IV of West Virginia is upset that a health care bill poised for approval by the Finance Committee would turn nearly a half-trillion dollars over to insurance companies, whose profits he says are "out of sight."
Wall Street Journal: Jobless Rate Is Key to Fate of Democrats in 2010
Congressional Democrats and the Obama White House have plenty to fret about as they eye the 2010 elections: rising deficits, the Afghan war, public fears over expanding government, the fate of the health-care brawl.
CNN: U.S. plans 'serious' sanctions if Iran diplomacy fails
The Obama administration is working on a substantial sanctions package against Iran in case current diplomatic efforts to curb its nuclear program fail, top officials told Congress on Tuesday.
CNN: GOP urges quick decision on Afghanistan
Leading Republicans urged President Obama to make a swift decision in favor of more U.S. troops for the war in Afghanistan after talks between the president and congressional leaders Tuesday.
Wall Street Journal: Behind Afghan War Debate, a Battle of Two Books Rages
The struggle to set the future course of the Afghan war is becoming a battle of two books - both suddenly popular among White House and Pentagon brain trusts.
CNN: 'Now is not the time for cold feet,' Palin says of Afghanistan
Former Republican vice presidential hopeful Sarah Palin has once again taken to Facebook to make her voice heard in the national debate — this time over military strategy in Afghanistan.
CNN: Petraeus was treated for prostate cancer
Gen. David Petraeus, the top U.S. military commander in the Middle East, has been treated for early stage prostate cancer and says recent screening tests have delivered "very positive" news.
Christian Science Monitor: 'Code Pink' rethinks its call for Afghanistan pullout
When Medea Benjamin stood up in a Kabul meeting hall this weekend to ask Masooda Jalal if she would prefer more international troops or more development funds, the cofounder of US antiwar group Code Pink was hoping her fellow activist would support her call for US troop withdrawal. She was disappointed.
CNN: White House shrugs off Feingold's 'czar' hearings
Congressional hearings called by Wisconsin Sen. Russ Feingold — one of the leading Democratic critics of executive branch "czars" who do not require Senate confirmation — drew a dismissive shrug from the White House Tuesday.
Los Angeles Times: Panel finds no fault with Obama system of policy 'czars'
In Senate testimony, constitutional experts say the president has the right to appoint independent advisors as long as the distinction between practical and legal authority is rigorously maintained.
Washington Post: Obama Sets Sights on Urban Renewal
President Obama is putting a new emphasis on revitalizing U.S. cities with a coordinated effort that involves stimulus funding and getting multiple agencies to work together to improve schools, housing and neighborhoods.
CNN: White House trying to 'fool Americans,' RNC talking points say
The Republican National Committee is instructing surrogates to accuse the Obama administration of trying to "fool Americans" into supporting their heath care plans by hyping GOP figures who've spoken positively about the plan, according to internal RNC talking points provided to CNN on Tuesday by a Republican source outside the committee.
CNN: ACORN chief says videos 'made my stomach turn'
The head of ACORN on Tuesday sharply deplored recent videos showing some of the group's workers advising people how to set up a prostitution business.
CNN: Sources: Administration considering safety net measures
Amid nervousness about states' economies and a growing unemployment rate, the Obama administration is considering a series of measures aimed at putting many Americans back to work before the 2010 midterm elections, sources close to the process told CNN.
New York Times: Support Builds for Tax Credit to Encourage Hiring
The idea of a tax credit for companies that create new jobs, something the federal government has not tried since the 1970s, is gaining support among economists and Washington officials grappling with the highest unemployment in a generation.
Boston Globe: Not much traction, but still running
Adam Azia wants to be your next United States senator. Perhaps you have never heard of him. You have almost certainly never seen his television show, aired on Somerville cable access, during which he wears a white brassiere filled with oranges, grapefruit, and other fruit.
CNN: Holder thinks he can convince Congress on Gitmo detainees
Attorney General Eric Holder on Tuesday expressed frustration with Congressional curbs on bringing Guantanamo detainees to the U.S., but said he thinks he can turn Congress around on the issue.
Washington Post: SEC Probing Biggest Hospital Company
The Securities and Exchange Commission has opened a probe into whether the largest hospital company in the world, Hospital Corporation of America, violated securities law by manipulating its books and records, according to documents and people familiar with the investigation.
CNN: Ensign says he did not breach ethics rules
Embattled Republican Sen. John Ensign told CNN Tuesday he did not break Senate ethics rules by helping to secure a lobbying job for the husband of the woman he had an affair with.
CNN: Deeds: Democrats' national agenda has made campaign 'tough'
Virginia gubernatorial candidate Creigh Deeds, a Democrat, argued Tuesday that the Obama administration's contentious economic agenda has been a drag on his campaign.
CNN: McCain and Lou Holtz to campaign for McDonnell
For the second time this year, Sen. John McCain is coming to Virginia to campaign for Republican gubernatorial hopeful Bob McDonnell.
CNN: Stimulus money for innovations in education announced
The U.S. Department of Education is looking to give innovative school districts and non-profit organizations a share of $650 million in education stimulus money now available in a new fund, Secretary of Education Arne Duncan said Tuesday.
CNN: Bachmann: House Dems 'embarrassed' by their health care bill
Minnesota Republican Rep. Michelle Bachmann said congressional Democrats were not guaranteeing lawmakers enough time to read the final version of health care reform legislation before they vote, telling conservative bloggers Tuesday that the majority party might be more interested in giving President Obama a political victory than in passing an effective plan.
CNN: Pence to meet with GOP activists in South Carolina
Indiana Rep. Mike Pence has given high-profile speeches to conservative groups and journeyed to the presidential primary states of Iowa and South Carolina, travels that have generated chatter among Republican insiders that he might seek the presidency in 2012.
New York Times: City of 8 Million Was a Ghost Town at the Polls
In the 97th Election District of the 79th Assembly District in the Morrisania section of the Bronx, the polls opened last Tuesday at 6 a.m. They remained open until 9 p.m. Not one of the district's 58 enrolled Democrats turned out to vote for public advocate or comptroller in two citywide primary runoff races that are considered tantamount to election.
CNN: Castle officially announces for Senate
In Delaware, the Republicans got the man they were looking for.
CNN: Christie touts environmental endorsement
New Jersey Republican gubernatorial candidate Chris Christie Tuesday lands what his campaign calls a major endorsement.
NATIONAL
For the latest national news: www.CNN.com.
CNN: Will airports screen for body signals? Researchers hope so
The days of being able to walk through airport security checkpoints while wearing shoes and a jacket could return if an experimental program proves successful, some Department of Homeland Security officials say.
Los Angeles Times: 'They are the unappreciated patriots'
In Iraq and Afghanistan, contractors like Reggie Lane often face the same dangers as U.S. troops. And make the same terrible sacrifices.
CNN: High court debates dog fighting videos
The Supreme Court voiced deep free speech concerns Tuesday about a law designed to stop the sale and marketing of videos showing dog fights and other acts of animal cruelty.
CNN: Bodies of soldiers killed in Afghanistan back in U.S.
The flag-draped coffins of five U.S. soldiers killed during a weekend onslaught against a U.S. military outpost in Afghanistan arrived Tuesday at Dover Air Force Base in Delaware, the military said.
USA TODAY: Reported rapes hit 20-year low
Reported rapes have fallen to the lowest level in 20 years as DNA evidence helps send more rapists to prison and victims are more willing to work with police and prosecutors, victims advocates and crime researchers say.
CNN: 'Horrorcore' singer suspected in Virginia killings
Elizabeth McCutchen and a friend were walking to book club two weeks ago in quaint Farmville, Virginia, when they strolled by a home on First Avenue. "Something smells dead," her friend said.
CNN: Attorney: Info sent to G-20 protesters via Twitter was public
The attorney for one of two men arrested during last month's G-20 summit for sending Twitter messages to help protesters argues that they were merely passing along public information.
New York Times: Immigration Hard-Liner Has His Wings Clipped
The Maricopa County sheriff, who has drawn scorn and praise for a running crackdown on illegal immigrants in this city's metropolitan area, said Tuesday that federal officials had taken away his deputies' authority to make immigration arrests in the field.
Los Angeles Times: Patient sues Anthem Blue Cross over liver transplant
Fearing for his life, Ephram Nehme paid for his own surgery in Indiana, where wait times for organ transplants are far shorter than in California. Anthem says it did nothing wrong.
CNN: Helen Keller statue to be unveiled at Capitol
It was a moment vividly depicted in the movie about her life: 7-year-old Helen Keller, holding one hand under a water pump as her teacher spelled "W-A-T-E-R" into her other hand.
CNN: Feds to investigate claims of police discrimination
The Justice Department and federal prosecutors will investigate allegations of discrimination against Latinos by police in Suffolk County, New York, officials said.
CNN: Conan O'Brien squabbles with New Jersey mayor
As with many jokes, it started with a small jab at the expense of New Jersey.
INTERNATIONAL
For the latest international news: http://edition.cnn.com/
CNN: Harsh Afghan outposts raise serious challenges for U.S.
Mountainous terrain and harsh weather in remote parts of Afghanistan have proven a deadly combination for the U.S. military in its push to reduce mounting violence in the country.
New York Times: NATO Says Afghan Battle Proved Costly for Militants
A battle that killed eight Americans at a pair of remote military bases in Afghanistan last weekend also left more than 100 insurgents dead, NATO said in a statement released on Tuesday.
Wall Street Journal: Saudi King to Pressure Syria Over Iran Alliance
Saudi King Abdullah al Saud is expected to make a rare visit to Syria this week to increase pressure on Syrian leader Bashar al Assad to loosen his alliance with Iran and strengthen Arab consensus on regional political and security issues, according to Saudi officials.
CNN: Swiss fight Polanski appeal against arrest
The arrest warrant used to detain filmmaker Roman Polanski in Switzerland was valid, the Swiss Justice Ministry said Tuesday, making clear it will fight the director's appeal against his detention over a 1977 sex case.
Bloomberg: Strauss-Kahn's Drive to Recast IMF Faces 'Legitimacy' Hurdle
Dominique Strauss-Kahn is trying to keep the spotlight on the International Monetary Fund as the world's focus shifts from the financial crisis to economic recovery.
CNN: Rwanda genocide suspect arrested, extradited
Police in Uganda have arrested and extradited a man who is among the most wanted suspects from the Rwandan genocide.
CNN: Pakistan seeks long U.S. commitment
Pakistani Foreign Minister Shah Mehmood Qureshi met with U.S. Secretary Hillary Clinton and urged the United States to articulate a long-term vision for the region, amid debate over U.S. involvement in Afghanistan.
CNN: Three held in slayings of indigenous Colombians
Three suspects have been arrested in the August slaying of 12 indigenous Awa people in southwestern Colombia, the military announced Tuesday.
BUSINESS
For the latest business news: www.CNNMoney.com.
CNNMoney: GM hits a big speed bump
For General Motors, the road out of bankruptcy isn't proving to be as smooth as its quick trip through it.
CNNMoney: Gold soars to record on dollar standard talk
Gold surged to a record high Tuesday after a news report sparked widespread talk about the U.S. dollar being unseated as the currency for trading oil.
In Case You Missed It
To watch the latest interviews and reporting: http://www.cnn.com/video.
CNN: New rules for bloggers
CNN.com's Virginia Cha talks to attorney and former FTC employee Thomas Cohn about new disclosure rules for bloggers.
Subscribe to the CNN=Politics DAILY podcast at http://www.cnn.com/politicalpodcast.
And now stay posted on the latest from the campaign trail by downloading the CNN=Politics SCREENSAVER at http://www.CNN.com/situationroom.