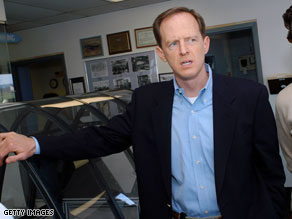 Toomey raises over $1.5 million for the quarter.
WASHINGTON (CNN)– Republican Senate candidate Pat Toomey - whose looming primary challenge helped drive former GOP Sen. Arlen Specter of Pennsylvania into the Democratic Party - raised over $1.5 million this past quarter, his campaign announced Wednesday.
Toomey has brought in over $3.1 million from over 20,000 contributors since announcing his candidacy in April, according to his campaign.
Specter's edge over Toomey in a hypothetical general election matchup appears to have evaporated: polls released last week show the two in a dead heat.