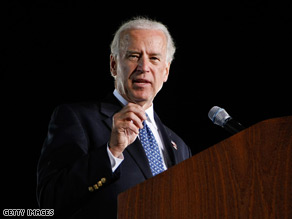 Biden will continue Deeds campaign .
WASHINGTON (CNN)–Vice President Joe Biden vows to continue campaigning for Virginia Democratic gubernatorial candidate Creigh Deeds.
"I hope to god you understand this race is winnable," Biden said Thursday at a fundraiser for Deeds in Alexandria, Virginia.
A new Washington Post poll suggests Deeds trails Republican candidate Bob McDonnell, the state's former attorney general, by nine points. Biden also made reference to New Jersey Gov. John Corzine, who is facing a tough bid for re-election, saying,"they declared him dead two weeks ago. He is now ahead."
The most recent polls in New Jersey indicate that Corzine is basically tied with Republican challenger Chris Christie, a former federal prosecutor.