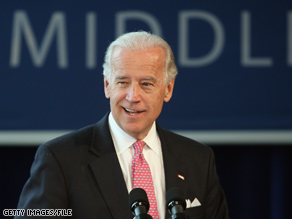 Joe Biden is lending a hand to Creigh Deeds Thursday.
WASHINGTON (CNN) - Joe Biden heads across the Potomac River Thursday to help out a fellow Democrat.
The Vice President teams up with Creigh Deeds, the Democratic candidate for governor of Virginia, at a fundraiser in Alexandria. Recent polls suggest that Deeds, a state senator, trails the Republican candidate, former Virginia Attorney General Bob McDonnell, from 4 to 9 points. Virginia's current governor, Democratic National Committee Chairman Tim Kaine, is term limited and can't seek a second term.
Biden was in New Jersey Wednesday, the only other state holding a gubernatorial contest this November. The vice president teamed up at two events with Democratic Gov. Jon Corzine, who's fighting for re-election. Recent surveys indicate that Corzine has now pulled even with Republican challenger Chris Christie, the former federal prosecutor in New Jersey.
Biden, who joined Corzine in June when the governor formally kicked off his re-election campaign, said he and President Barack Obama are committed to helping Corzine win a second term.
"It's critically important he be re-elected," said Biden.
While the campaigns in both New Jersey and Virginia concentrate on local issues and the candidates themselves, they're also partially viewed as an early referendum on the Obama presidency. Obama has traveled to both states to campaign personally with the candidates, and is expected to team up with Corzine again in New Jersey later this month.
Wednesday night Biden lended a helping hand to a Rep. Lary Kissell, the Democrat from North Carolina's eigth district who defeated Republican Congressman Robin Hayes last year, and could face a tough re-election next year.
At a fundraiser for Kissell in the District of Columbia, Biden praised the congressman, saying "there's something magical about someone from a textiles background, and who was teaching high school civics a year ago, to be standing up here with the vice president. That's a miracle. That's what makes this country great."