WASHINGTON (CNN) - The largest number of comments on Twitter after Sen. Olympia Snowe's vote in support of the Senate Finance Committee $829 billion health care proposal came from people angry about her decision.
According to Crimson Hexagon and Mashable, of the roughly 6,000 tweets that mentioned Snowe and were selected and examined following the votes Monday (from 2:00 to 4:30 p.m. ET) and Tuesday (between 1:00 to 2:00 p.m. ET). Forty-nine percent of those tweets communicated an anti-Snowe message. Those tweets fell into roughly three categories: "Get her out" (21 percent), "Shame on her" (19 percent) and "Call 2 protest" (10 percent).
Forty-four percent of those surveyed sent out a message congratulating the senator for her vote, and 6 percent noted that they don't care or that the "bill sucks" regardless.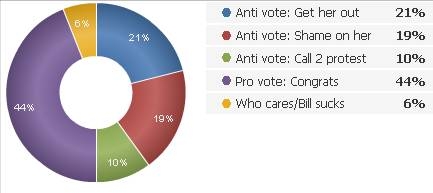 The most up to date analysis of the Tweetstream of about 6000 tweets.
(Photo Credit: Crimson Hexagon)
"What this demonstrates is the loudest voices in the conversation," says Crimson Hexagon executive Melyssa Plunkett-Gomez. "Of the tweets that we analyzed, it represents the proportions of tweets that are reflecting these sentiments. The loudest voice is anti-Olympia Snowe."
Crimson Hexagon is a non-partisan company that analysis the conversation on the Internet, including Twitter. It uses an algorithm that monitors the sentiment of tweets. The survey was commissioned by Mashable, a leading technology blog.
Follow Eric Kuhn on Twitter @KuhnCNN