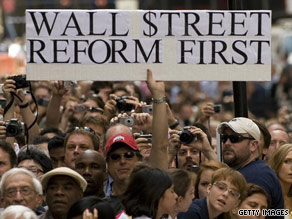 Join the conversation on Jack's blog.
Americans are mad as hell… and they're keeping both big business and government in the crosshairs. The Wall Street Journal reports that historically the public focuses its anger on either one institution or the other — but not this time.
On the one hand, people are frustrated with the Wall Street failures that led to this financial mess; and they're outraged at ongoing situations like bonus payouts at AIG. But Americans also see too much involvement by Congress and the federal government — accusing the administration of "socialism" and a "takeover" of the economy.
What's interesting here is some don't see government and business as opposing forces, rather they see "a unified elite pursuing one big swindle." For example — the government using hundreds of billions of dollars of taxpayers' money to bail out banks and automakers.
To read more and contribute to the Cafferty File discussion, click here