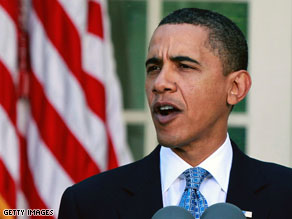 Obama defends economic stimulus plan.
(CNN) - President Barack Obama defended his administration's $787 billion stimulus plan Wednesday, arguing that it has helped stem the nation's economic slide and spur new job creation.
"As difficult as these times are ... we are moving in the right direction," he said while touring a construction site in Springfield, Virginia.
"Our economy is in better shape today than when I took office."
The effectiveness of the stimulus bill has been hotly debated in recent weeks. The White House has said it is responsible for saving or creating more than 1 million jobs.
Top Republicans, however, claim the stimulus has been a failure. Among other things, they have highlighted the fact that the national unemployment rate has climbed to nearly 10 percent.
–CNN's Tami Luhby contributed to this report