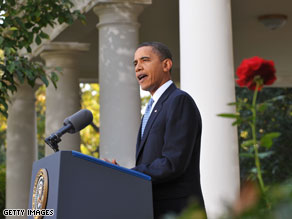 Obama, top advisers meet to review Afghan strategy.
WASHINGTON (CNN) - President Barack Obama huddled with top military, foreign policy and national security advisers Wednesday as part of an ongoing review of U.S. strategy in Afghanistan.
The meeting, the fifth such gathering in recent weeks, came as the administration continued to weigh a call for as many as 40,000 additional troops from Gen. Stanley McChrystal, the top U.S. commander in Afghanistan.
McChrystal has said the extra manpower is necessary to implement an effective counterinsurgency strategy.
Others in the administration are advocating a different approach. Vice President Joe Biden has called for a counterterrorism strategy, which would focus on using special forces and technology to reduce the number of al Qaeda insurgents on the Afghanistan-Pakistan border.

"I will tell you that our principal goal remains to root out al Qaeda and its extremist allies that can launch attacks against the United States or its allies," Obama said Tuesday.
"That's our principal mission. We are also obviously interested in stability in the region, and that includes not only Afghanistan, but also Pakistan."
Obama has come under intense pressure from several leading senators to follow McChrystal's recommendation - a move vehemently opposed by many liberal Democrats.
Sen. John McCain, R-Arizona, said last Sunday any added military deployment that fell short of McChrystal's request "would be an error of historic proportions."
"And I think the great danger now is a half-measure, sort of a - you know, try[ing] to please all ends of the political spectrum," McCain told CNN's John King.
"I have great sympathy for the president, making the toughest decisions that presidents have to make, but I think he needs to use deliberate speed," he said.
Sen. Dianne Feinstein, D-California, argued U.S. troops would be put in "jeopardy" if Obama does not listen to McChrystal.
"I don't know how you put somebody in who's as crackerjack as General McChrystal, who gives the president very solid recommendations, and not take those recommendations if you're not going to pull out," she said Sunday on ABC's "This Week."
Feinstein heads the Senate Intelligence Committee.
British Prime Minister Gordon Brown announced Wednesday that he is increasing British troop levels in Afghanistan to 9,500 - an increase of 500.
The British have the second-largest contingent in Afghanistan, after the United States, according to NATO's International Security Assistance Force.
Obama announced a plan to send 21,000 additional troops to Afghanistan in March. A total of 65,000 U.S. soldiers are currently serving in the war torn country.
CNN's Richard Greene and Adam Levine contributed to this report.