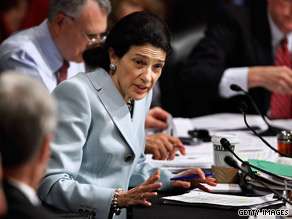 Sen. Olympia Snowe, a Maine Republican, has been at the center of the heated debate to overhaul health care.
WASHINGTON (CNN) - A key figure in the contentious health care debate called for more bipartisan compromise Wednesday, putting her at odds with a growing chorus of dissent from conservative and liberal activists.
Sen. Olympia Snowe of Maine, the lone Republican on the Senate Finance Committee to vote for that panel's sweeping $829 billion proposal, said that a failure on the federal government's part to act soon would exacerbate a growing crisis.
Snowe's warning came as top Senate Democrats prepared to discuss ways to merge the Finance Committee's bill with legislation from the Senate Health, Education, Labor and Pensions Committee.