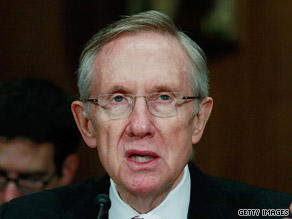 Senate Majority Leader Harry Reid will be a key player in putting a health care bill together.
WASHINGTON (CNN) - The focus on health care reform now shifts to the Democratic leadership in Congress a day after the Senate Finance Committee voted through its version of the health care bill.
Senate Majority Leader Harry Reid, D-Nevada, initially began deliberations behind closed doors Wednesday in an effort to merge the conservative-leaning Finance Committee legislation with a more liberally drawn bill approved by the Senate Committee on Health, Education, Labor and Pensions.
The meeting, however, was moved at the last minute from Reid's office to a large conference room adjacent to it on the second floor of the Capital.
The late Democratic Sen. Ted Kennedy used the room as his private office after he was diagnosed with brain cancer, in part, because of its easy access to the Senate floor.
Those in attendance included: Reid; Senate Finance Chairman Max Baucus; Sen. Chris Dodd of the Health, Education, Labor and Pensions Committee; White House Chief of Staff Rahm Emanuel; Health and Human Services Secretary Kathleen Sebelius; Phil Schiliro, the director of legislative affairs for the White House; Peter Orszag; director of the Office of Management and Budget and Nancy-Ann DeParle, the director of the White House Office of Health Reform.