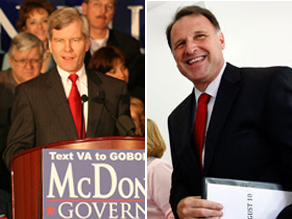 McDonnell and Deeds have 19 days to go until election day in Virginia.
WASHINGTON (CNN) - Bob McDonnell, the Republican candidate for governor in Virginia, is using his top Democratic supporter in a new television ad.
The 30-second spot is a simple testimonial from Sheila Johnson, the co-founder of BET and McDonnell's most prominent African-American backer. McDonnell has released a slew of ads featuring female supporters, an effort to blunt criticism from Democrat Creigh Deeds that the Republican opposes equal treatment for working women, a group McDonnell described as "detrimental" to the family in his 1989 master's thesis.
Johnson is also a frequent campaign surrogate who landed the McDonnell campaign in hot water earlier this month when she mocked his Democratic rival's stuttering speaking style. She later apologized for her remarks.
"I'm Sheila Johnson, a Democrat businesswoman," she says in the ad, speaking directly into the camera. "I know what it takes to start and grow successful businesses and create jobs. That's why I support Bob McDonnell for governor."
The ad is running in Democratic-leaning northern Virginia.