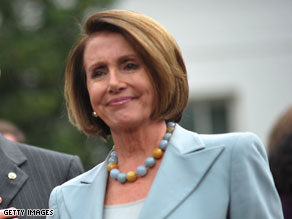 Pelosi steps up defense of public option on health care.
WASHINGTON (CNN) - House Speaker Nancy Pelosi warned her Senate counterparts Thursday that she intends to fight hard for a government-run health care plan as part of any comprehensive overhaul bill.
Pelosi's adamant defense of the politically polarizing public option puts her on a potential collision course with the Senate Finance Committee, which dropped the idea from its sweeping $827 billion proposal.
Democratic Senate leaders have not yet indicated if they will include the option when they combine the Finance Committee's legislation with a separate measure advanced by the Senate Health, Education, Labor and Pensions Committee.
If the House and Senate manage to pass health care reform bills, a conference committee would then negotiate a final version requiring approval from both chambers before going to President Barack Obama for his signature.
"I want our conferees to have the most muscle for the middle class whenthey go to the table (to negotiate with the Senate)," Pelosi told reporters on Capitol Hill.
"Why would "you throw (people) into the lion's den of the insurance industry without the leverage" of a public option, she asked. "Our House position is what we will go in there to fight for."

Several top Democrats - including Pelosi - have questioned whether it is possible to contain spiraling medical costs without creating a public option to serve as a check on private insurers.
Republicans and some conservative Democrats oppose the government-run insurance option, saying it would drive private insurers from the market and eventually bring a government takeover of the health care system.
Maine GOP Sen. Olympia Snowe - the lone Republican to vote for the Finance Committee bill - has expressed her strong opposition to a public option.
Finance Committee Chairman Max Baucus, D-Montana, has repeatedly said the Senate cannot muster the 60 votes necessary to cut off a potential filibuster if it tries to pass legislation including a public option.