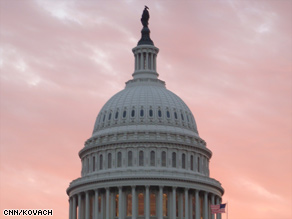 The CNN Washington Bureau's morning speed read of the top stories making news from around the country and the world.
WASHINGTON/POLITICAL
For the latest political news: www.CNNPolitics.com.
CNN: Candidate vs. boss: Obama's ship not so tight these days, some say
During the 2008 presidential campaign, analysts noted that then-Sen. Barack Obama ran a relatively tight ship - complete with a near lock-step message strategy and a loyal political team.
CNN: What happens next in health care reform?
The focus on health care reform now shifts to the Democratic leadership in Congress a day after the Senate Finance Committee voted through its version of the health care bill.
CNN: Chance for bipartisanship on health care bill fades
Prospects for bipartisan cooperation on health care reform faded Wednesday as a key Senate Democrat called his GOP counterparts obstructionist and both conservative and liberal activists attacked the sweeping $827 billion Senate Finance Committee bill.
CNN: Spotlight follows Snowe as health care battle advances
Republican Sen. Olympia Snowe has served in Congress for more than 30 years, but in recent months, she's become one of the most-watched lawmakers on Capitol Hill.
CNN: Obama, advisers review Afghanistan strategy
President Obama huddled with top military, foreign policy and national security advisers Wednesday as part of an ongoing review of U.S. strategy in Afghanistan and Pakistan.
Washington Post: Obama Focuses on Civilian Effort in Afghanistan Strategy Review
President Obama, convening his fifth war council meeting in as many weeks, pressed his senior national security advisers Wednesday on the political situation in Afghanistan and the effort to train the country's security forces, officials said.
Wall Street Journal: Earmarks Sap Energy Chief's Priorities
Energy Secretary Steven Chu set out this year to address America's energy future with a network of new research labs. But lawmakers drafted their own blueprint: Instead of fully funding Dr. Chu's request, an energy-spending bill sets aside millions of dollars for such projects as an aviation-research institute, an environmentally friendly locomotive and air conditioning for a New Jersey museum.
CNN: Obama goes cross-country to help raise cash
President Obama is going coast to coast to help raise money for fellow Democrats.
Washington Post: Cap-and-Trade Would Slow Economy, CBO Chief Says
A House-passed bill that targets climate change through a cap-and-trade system of pollution credits would slow the nation's economic growth slightly over the next few decades and would create "significant" job losses from fossil fuel industries as the country shifts to renewable energy, the head of the Congressional Budget Office told a Senate energy panel Wednesday.
CNN: Senators respond to Pakistani protests, explain aid bill
The chairmen of the House and Senate committees on foreign relations Wednesday provided a written explanation of the $7.5 billion Pakistan aid bill, a response to Pakistani protests of U.S. meddling in its affairs.
Washington Post: Master Classes in Teamwork
The private seminars usually take place on Tuesdays or Thursdays. The classroom often is a first-floor meeting room in the Capitol. The students are U.S. senators - sometimes a handful, sometimes more - and a collection of their staff members.
CNN: Backlogs continue to frustrate progress at VA
The Department of Veterans Affairs is still struggling with an enormous backlog in claims for medical and educational benefits that are piling up despite efforts to diminish the paperwork, the secretary of the department admitted Wednesday.
Wall Street Journal: IRS Touts Its Amnesty, Trains Sights on Evaders
The Internal Revenue Service said more than 7,500 U.S. taxpayers with undeclared offshore accounts had stepped forward under its limited amnesty program, and the agency announced a new push to stop tax evaders from moving funds between foreign countries.
CNN: Steele's blog no longer titled 'What Up?'
After an initial round of Internet mockery, the Republican National Committee has apparently decided to drop "What Up?" as the title of Michael Steele's blog on the newly revamped GOP.com.
CNN: Flake camped alone because he 'felt like a pansy'
So why did Rep. Jeff Flake really spend a week alone on a deserted island? Because, he told CNN Wednesday, he "felt like a pansy."
Washington Times: Geithner's top posts stay empty in crisis
Treasury Secretary Timothy F. Geithner is trying to lead the U.S. economy out of its doldrums with – figuratively – one arm tied behind his back: Almost nine months after the Obama administration took power, more than half of the 33 highest-level Treasury Department posts are still vacant.
CNN: Florida Democrat to resign seat
Florida Rep. Robert Wexler is resigning the seat he's held for 12 years to head up the Washington-based Center for Middle East Peace, the Democratic congressman announced Wednesday.
CNN: Specter raises nearly $2 million in last three months
Sen. Arlen Specter continues to stockpile cash ahead of what's likely to be a difficult re-election battle.
POLITICO: John Boehner downplays Dow 10,000
Dow 10,000 just isn't that big a deal, House Republican leader John Boehner said Wednesday morning.
CNN: Labor groups call Senate health care bill 'deeply flawed'
More than two dozen of the nation's largest labor unions, a coalition that has previously been among the president's most solid bases of support, are taking out full page newspaper ads Wednesday to register their disapproval with the health care reform bill that has formally cleared the Senate Finance Committee.
CNN: UPDATE: George W. Bush not joining Twitter just yet
A spokesman for George W. Bush told CNN Wednesday that the former president currently "has no plans of tweeting."
CNNMoney: Obama wants $250 for seniors
President Obama is calling on Congress to send another $250 relief payment to 57 million seniors and other Americans to stem the economic strain.
CNN: Gore to visit Virginia to help Deeds
Former Vice President Al Gore is coming to Virginia on Friday to raise money for Democratic gubernatorial candidate Creigh Deeds, a campaign aide confirmed.
CNN: Obama returns to NJ for late Corzine assist
President Obama will return to New Jersey next week for a late campaign trail appearance with Gov. Jon Corzine, the Democratic governor's campaign announced Wednesday.
CNN: Harry Reid's son enters Nevada gubernatorial race
Senate Majority Leader Harry Reid won't be the only member of his family facing Nevada's voters in 2010 now that his son is officially joining the state's gubernatorial campaign.
CNN: Schwarzenegger same-sex marriage bill called 'unconstitutional'
One of the Republicans hoping to succeed California Gov. Arnold Schwarzenegger next year is claiming that the governor violated the state constitution by signing a bill recognizing out-of-state same-sex marriages.
New York Times: G.O.P. Has a Lightning Rod, and It's Not Palin
Representative Michele Bachmann will appear in the 2010 calendar of "Great American Conservative Women" (she will be November). Her likeness has been transformed into an action figure. And, so far in 2009, she has been interviewed on a national cable news show every nine days, on average, an analysis by Smart Politics, a nonpartisan blog affiliated with the University of Minnesota shows.
NATIONAL
For the latest national news: www.CNN.com.
CNN: US Airways, United face FAA fines for safety violations
The Federal Aviation Administration on Wednesday proposed fines against two of the nation's largest airlines, saying the airlines flew planes on hundreds of occasions in violation of FAA or airline safety standards.
CNN: Limbaugh dropped from group seeking to buy NFL team
The group of investors seeking to purchase the NFL's St. Louis Rams is dumping Rush Limbaugh from their effort after NFL executives, players and political leaders raised objections to the controversial talk show host's involvement in the bid.
CNN: Jaycee Dugard opens up after 18-year kidnapping ordeal
The first images are emerging of an adult Jaycee Dugard, the woman who was kidnapped when she was 11 and allegedly held captive for 18 years by a couple in an elaborate compound hidden in the backyard.
USA TODAY: Some police agencies resist new immigration controls
Some state and local police are having second thoughts about working with the federal government to enforce immigration laws.
CNN: New York workers must get flu shots, for now, judge rules
A New York judge denied a request Wednesday for a temporary restraining order barring the state from mandating flu vaccines for health care workers but left open that possibility pending another hearing on the matter next week.
New York Times: In Nuclear Cleanups, Not Even Rabbit Droppings Can Be Ignored
Anything that hops, burrows, buzzes, crawls or grazes near a nuclear weapons plant may be capable of setting off a Geiger counter. And at the Hanford nuclear reservation, one of the dirtiest of them all, its droppings alone might be enough to trigger alarms.
CNN: Police set up Web site to help catch a serial killer
Loretta Chaisson Lewis, 28, was the first to die. She was reported missing on May 17, 2005. Three days later, fishermen found her body floating in a canal off Highway 26 in Jennings, Louisiana.
CNN: Maria Shriver breaks husband's cell phone law, Web site says
A celebrity gossip Web site has caught Maria Shriver a third time apparently violating California's law against using a cell phone while driving.
CNN: Utility: Cancer patient's power will stay on pending review
The Public Utility Commission of Texas will review the case of a cancer patient fighting to keep her electricity on to power her oxygen machine, the commission told CNN on Wednesday.
New York Times: Resurgent Cincinnati Inspired by Bond With Young Cancer Patient
The Cincinnati Bearcats are neck-and-neck with Ohio State in the polls, their quarterback is a Heisman Trophy contender and they have surged into the national title conversation.
CNN: Report card shows U.S. students need to improve math skills
U.S. schoolchildren still have work to do when it comes to mathematics, the secretary of education said Wednesday.
New York Times: Libraries and Readers Wade Into Digital Lending
Kate Lambert recalls using her library card just once or twice throughout her childhood. Now, she uses it several times a month.
CNN: For young mom, new CPR beat back death
The Hardens were losing track of each other's conversations. It had been a long, exhausting day for both Scott, a sheriff's deputy, and Kathie, an elementary school teacher. The couple put their two young children to bed, turned on the Food Network for a few minutes, then called it a night.
INTERNATIONAL
For the latest international news: http://edition.cnn.com/
CNN: End to Honduras crisis? Not so fast, negotiator says
A negotiator for de facto Honduran President Roberto Micheletti said that no deal was reached between the two opposed sides Wednesday, as other government officials had reported.
CNN: Aid groups are little match for Congo brutality, doctors say
Humanitarian organizations have been unable to meet the "massive needs" of civilians facing brutal attacks in northeastern Democratic Republic of the Congo, a medical aid group said Wednesday.
Wall Street Journal: Berlin Builds a New Wall to See How the Dominoes Fall
In a dark and drafty warehouse, a new Berlin Wall is taking shape. Nearly 1,000 pieces, each one over 8 feet tall, 3 feet wide and 16 inches thick, have already been crafted.
CNN: Report: Hundreds detained by Israel without charge
Salwa Salah was 16 years old when she was arrested by Israeli forces and jailed for seven months.
CNN: India to adopt 'quiet diplomacy' on Kashmir
New Delhi will adopt "quiet diplomacy" to find a solution to the problem of Indian-administered Kashmir, India's home minister said.
CNN: Cuba won't let blogger travel to New York to accept award
A Cuban blogger who has criticized her government has been denied permission to travel to New York to pick up a prestigious journalism award Wednesday.
CNN: Billy Graham's son visits North Korea
The Rev. Franklin Graham has arrived in North Korea bearing a gift for North Korean leader Kim Jong Il, the country's official news agency reported Wednesday.
CNN: Pterodactyl fossil fills gaps in evolutionary tale
Scientists say a very rare find of some 20 fossilized pterodactyls has produced the first clear evidence of a controversial theory of evolution.
CNN: Singer Leona Lewis attacked at bookstore, label says
British singer Leona Lewis was "understandably shaken" after a man attacked her during a book signing in central London Wednesday afternoon, a spokeswoman for her record label said.
BUSINESS
For the latest business news: www.CNNMoney.com.
CNN: Don't trust Dow 10,000
As the Dow closed above 10,000 for the first time in more than a year Wednesday, economists cautioned that the blue-chip average shouldn't be seen as giving a green light to the economy.
Washington Post: Many Small Investors Have Sat Out Rally
Wall Street may be cheering the rally in the U.S. stock market, but many individual investors watched the Dow Jones industrial average soar past the 10,000 mark Wednesday on the sidelines.
CNNMoney: Want lots of vacation? Move to Lithuania
Here's one reason to move to Lithuania: Eight weeks of time off.
In Case You Missed It
To watch the latest interviews and reporting: http://www.cnn.com/video.
CNN: Mass wedding marries thousands
The Unification Church's largest mass wedding in a decade, with some 40,000 people participating in dozens of cities.
Subscribe to the CNN=Politics DAILY podcast at http://www.cnn.com/politicalpodcast.
And now stay posted on the latest from the campaign trail by downloading the CNN=Politics SCREENSAVER at http://www.CNN.com/situationroom.