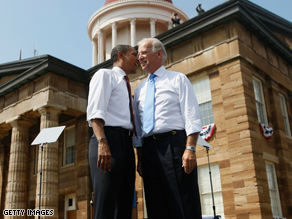 Biden told a Pennsylvania crowd he only said yes to being vice president months after it was first offered.
(CNN) - It was an oft-repeated anecdote on the 2008 campaign trail: then-Sen. Joe Biden accepted the request to be the No. 2 on the Democratic presidential ticket at a Delaware dentist office as his wife was undergoing a root canal.
Less discussed however was how Biden first said no to the post when then-Sen. Obama raised the subject months before the final announcement was made.
"I initially said no, that I wasn't interested," Biden told a Pennsylvania crowd Monday night at the annual Allegheny County Democratic Committee dinner. "He asked me to think about it."
Biden said he finally accepted the job "a couple months later" not in a dentist office but in a hotel room in Minneapolis, Minnesota.
The vice president said he asked the then-Democratic presidential nominee, "Are you really committed to changing the course of this county?"
"He reached out, shook my hand, and said 'I am,'" Biden said.
Of course, according to Biden's wife Jill, the vice president actually had a choice between the No. 2 post and being the Secretary of State.
During an appearance on the Oprah Winfrey Show last January, Mrs. Biden accidentally let slip that piece of information - though the vice president's office later took issue with that contention.
"To be clear, President-elect Obama offered Vice President-elect Biden one job only – to be his running mate," Elizabeth Alexander, a spokeswoman for Biden, said then. "And the vice president-elect was thrilled to accept the offer."