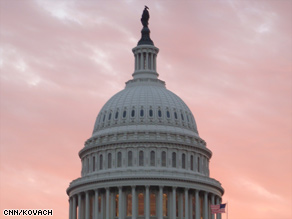 The CNN Washington Bureau's morning speed read of the top stories making news from around the country and the world.
WASHINGTON/POLITICAL
For the latest political news: www.CNNPolitics.com.
CNN Poll: Half the country disagrees with Obama on issues
For the first time since he took over in the White House, Americans don't see eye to eye with President Barack Obama on the important issues, according to a new national poll. But the CNN/Opinion Research Corporation survey does indicate that a majority approve of how Obama's handling his duties as president.
CNN: Clinton plans major arms control speech
Secretary of State Hillary Clinton will deliver a major address on arms control and international security at the U.S. Institute of Peace Wednesday.
CNN: U.S. lobbied Afghanistan's Karzai to accept runoff
In a blizzard of personal meetings in Kabul, Afghanistan, and in telephone conversations from Washington, U.S. officials lobbied Afghan President Hamid Karzai to abide by the nation's constitution and accept a runoff election.
CNN: Obama notes 'transition' in U.S.-Iraqi bilateral ties
President Obama said U.S.-Iraqi ties are entering a new period, a change marked by a decreased emphasis on security and an increased focus on the Iraqi economy.
USA TODAY: Report: White House neglecting bioterrorism
The Obama administration is working hard to curb nuclear threats but failing to address the more urgent and immediate threat of biological terrorism, a bipartisan commission created by Congress is reporting today.
McClatchy: Bill to tighten rules on ratings agencies has big loopholes
A key House of Representatives committee is set to vote soon on legislation that would overhaul financial regulation and produce greater transparency for investors, but as it's now written it fails to address many of the credit-rating agency missteps that helped fuel the global financial crisis.
CNN: Palin to appear on Oprah day before tell-all released
Sarah Palin will sit down with Oprah Winfrey the day before her new memoir hits bookstores, Harpo announced Tuesday.
Washington Times: Feds threatened to oust BofA execs over Merrill deal
Government regulators threatened to remove top Bank of America executives if they backed out of a buyout of failing brokerage giant Merrill Lynch, and offered to provide taxpayer funds to compensate for Merrill's poor performance, according to company records obtained by The Washington Times.
USA TODAY: Congress escalates battle over radio royalties
Members of Congress, already bruised by the struggles over the health care overhaul, had better get ready for another bitter fight, this time over the future of the music business.
CNN: Democrats push to reverse Medicare payment cuts to doctors
Senate Democrats struggled Tuesday to find enough votes to pass a controversial measure intended to ensure that doctors experience no cut in Medicare reimbursement payments over the next 10 years.
New York Times: Volcker's Voice Fails to Sell a Bank Strategy
Listen to a top economist in the Obama administration describe Paul A. Volcker, the former Federal Reserve chairman who endorsed Mr. Obama early in his election campaign and who stood by his side during the financial crisis.
CNN: Are states following stimulus plan rules for schools?
Creating and saving jobs while boosting investment in the future are among the top goals of the Obama administration's $787 billion economic stimulus plan.
CNN: Borger: Republicans snipe instead of offering solutions
Every president believes, upon election, that his term of service will be transformative. Some, like Barack Obama, actually campaign on the idea: that his brand of leadership and force of personality are so persuasive that they will change the way the world (aka Washington) does business.
CNN: Former rivals Plouffe, Schmidt team up
Nearly a year after Election Day 2008, the campaign managers for John McCain and Barack Obama, who spent last year at war, have joined forces.
CNN: High court accepts Guantanamo Uyghur case
The Supreme Court tentatively agreed Tuesday to accept an appeal from a group of native Chinese Muslims who had asked to be released into the United States from American military custody at Guantanamo Bay, Cuba.
McClatchy: Guantanamo commander: I can empty prison in 10 days
The military can comply with a White House order to empty the detention center and clear all 221 war-on-terror captives off this remote base "with 10 days notice," the prison camps commander said Tuesday.
CNN: Liberal group launches campaign to close Guantanamo
A coalition of retired generals and liberal activists joined forces Tuesday launching a $100,000 ad campaign – and multi-million dollar national grassroots effort – aimed at pressuring members of Congress to support President Obama's endeavor to close the Guantanamo Bay prison.
CNN: Steele 'not really' concerned about declining GOP support
Republican National Committee chairman Michael Steele on Tuesday brushed off a new poll that indicates just 20 percent of the American public are willing to call themselves Republicans.
CNN: Obama thanks counterterrorism task force
There were no squeals of delight or cell phones held high to capture photos Tuesday when President Barack Obama thanked workers at the nation's Joint Terrorism Task Force headquarters in New York for keeping the country safe.
New York Times: Poland to Accept U.S. Offer on Shield
Poland, smarting after President Obama announced last month that he would scrap Bush-era plans to deploy an antiballistic missile system in Eastern Europe, will accept an offer to host parts of a new, more mobile, missile defense system, Polish officials said Tuesday.
CNN: Clinton stumps for Corzine
With two weeks left until Election Day, and Jon Corzine fighting for his political life, the New Jersey governor gets a helping hand from another big-name surrogate Tuesday night.
New Jersey Star Ledger: Corzine brings in help, as Christie stays low-key
In the battle for momentum in a bitterly fought campaign, Democratic Gov. Jon Corzine yesterday showcased a popular ex-president, Republican Chris Christie sat at a kitchen table talking taxes and independent Chris Daggett said the nasty tone of the race is driving voters to his side.
CNN: Clinton breaks down polling in Virginia's governor's race
Former President Bill Clinton played political analyst Tuesday during a campaign appearance in Virginia for Democrat Creigh Deeds, who is trails Republican Bob McDonnell according to recent polling.
Richmond Times Dispatch: In final debate, Deeds and McDonnell discuss health care
Republican gubernatorial candidate Bob McDonnell said last night that Virginia should not participate in a federal health-care program that contains a "public option."
New York Times: San Francisco Alters When Police Must Report Immigrants
The San Francisco board of supervisors voted Tuesday to overturn a city policy that has been at the center of a national debate over offering illegal immigrants sanctuary.
CNN: PAC formed to push for BCS playoff
A new political effort is afoot to reform to the NCAA Bowl Championship Series. Playoff PAC, a federal political action committee, was launched Monday by six men bound together by law school ties or work on Sen. John McCain's 2008 presidential campaign.
CNN: GOP officials apologize for Jewish stereotype
After his words attracted national attention and drew condemnation from a Jewish state senator, a South Carolina Republican official is now apologizing for co-writing a newspaper op-ed that described Jews as penny-pinchers.
Wall Street Journal: Top Aide to Testify Against Blagojevich
A day after the courts cleared the way for former Illinois Gov. Rod Blagojevich to compete on a TV reality show, a former longtime confidant delivered a major setback in Mr. Blagojevich's real-life corruption trial.
CNN: RNC announces big September cash haul
It appears September was a big fundraising month for the Republican National Committee.
CNN: DNC falls short of RNC in September cash haul
The Democratic National Committee raised just over $8 million last month, according to a party source – a total that would put the DNC behind the Republican National Committee for the month, which reported earlier Tuesday that they brought in $8.74 million in September.
POLITICO: Mark Sanford ouster not on tap
South Carolina's House of Representatives will convene briefly later this month, but GOP legislators and party sources told POLITICO it's highly unlikely that the chamber will move forward with impeachment proceedings against scandal-plagued GOP Gov. Mark Sanford.
CNN: President Barack Obama, Party Guy
Call him the party guy. President Barack Obama is in the middle of a two-week period full of fundraisers and campaign events to help out fellow Democrats as campaign season enters the home stretch this year.
CNN: Biden says he first said no to being VP
It was an oft-repeated anecdote on the 2008 campaign trail: then-Sen. Joe Biden accepted the request to be the No. 2 on the Democratic presidential ticket at a Delaware dentist office as his wife was undergoing a root canal.
POLITICO: Hutchison to stay mum on retirement
Texas Republican Kay Bailey Hutchison suggested that she's still on track to retire later this year, but she warned that she's done talking about her timeline for quitting the Senate while she runs for governor.
NATIONAL
For the latest national news: www.CNN.com.
CNN: Alleged hit man changes appearance, FBI says
Eduardo Ravelo is described as a "ruthless killer" who has gone to great lengths to avoid law enforcement while contributing to the bloodshed that terrorizes the border between Texas and Mexico.
CNN: Murder charge dropped against teen in Chicago beating
A 17-year-old said Tuesday he is "blessed" that prosecutors dropped a murder charge against him in the beating death last month of a Chicago honors student.
Los Angeles Times: Hospitals begin limiting visitors over H1N1 flu
Alarmed by the spread of the H1N1 flu, hospitals throughout California and neighboring states restricted visitors this week, barring children and capping the number of visitors per patient.
CNN: Colorado balloon incident under federal investigation
Last week's "balloon boy" incident is being investigated by the Federal Aviation Administration, an agency representative said Tuesday.
Los Angeles Times: Recession drives up college tuition nationwide
The recession helped push up the cost of college this year, with students facing bigger bills because of reduced state spending on higher education and diminished campus endowments, according to a College Board report released Tuesday.
New York Times: In Shift, Cancer Society Has Concerns on Screenings
The American Cancer Society, which has long been a staunch defender of most cancer screening, is now saying that the benefits of detecting many cancers, especially breast and prostate, have been overstated.
CNN: Investigation reveals final hours of McNair, girlfriend
The girlfriend of former NFL quarterback Steve McNair had grown frustrated with their relationship and was struggling with financial difficulties in the days before she killed him and herself in July.
CNN: Teen accused of plot to attack school on Columbine anniversary
A 15-year-old boy remained in a psychiatric facility Tuesday after Monroe, New York, police arrested him in connection with a plot to attack his former high school on the anniversary of the 1999 Columbine High School shooting, police said.
CNN: Atheist ads to adorn New York subway stations
Some New Yorkers may want to reconsider exclaiming "Thank God" when arriving at their destination subway station beginning next Monday.
CNN: State, federal education experts mull nationwide standards
Can you "graph the solution set of a linear inequality in two variables on the coordinate plane?"
CNN: UConn coach: No indication football players involved in fight
University of Connecticut football coach Randy Edsall said Tuesday that nothing he has heard indicates that any of his players were involved in a fight the night cornerback Jasper Howard was stabbed to death.
Boston Globe: A sense of safety shatters at colleges
The crimes have been stacking up all year: A Wesleyan University student gunned down at a bookstore cafe, a student at Spelman College felled by a stray bullet, a suspected drug dealer shot to death in a Harvard residence hall. In just the short time since the fall semester began, a Yale graduate student was strangled and a UCLA student was repeatedly stabbed in a chemistry lab.
INTERNATIONAL
For the latest international news: http://edition.cnn.com/
CNN: Karzai accepts Afghanistan election runoff
Afghan President Hamid Karzai bowed to Western pressure Tuesday, agreeing to take part in a presidential runoff vote in two weeks.
CNN: Suicide blasts at Islamabad university kill at least five
Back-to-back suicide bombings killed at least five people at a university here Tuesday and wounded nearly two dozen, authorities said.

New York Times: Pakistan Finds Local Allies Against Ferocious Foe
As Pakistani soldiers fought their way into the forbidding heartland of the Mehsud tribal territory on Tuesday against Taliban and Al Qaeda militants, they faced the most ferocious fighters in Pakistan, men whose ancestors were legendary for never succumbing to the British.
Washington Post: In cultural hub, mixed feelings about army effort
Police Superintendent Mobashir Ullah was en route to a graduation ceremony Thursday when word reached him that armed men had stormed a training academy under his command.
CNN: Meetings aim to cement deal on Iran nuclear program
The chief of the United Nations' nuclear watchdog agency sounded less optimistic after Tuesday's meeting on Iran's nuclear program than he had after Monday's meetings.
CNN: Israel's Peres rejects U.N. Gaza report
Israeli President Shimon Peres rejected a United Nations report on his country's incursion into Gaza as "one-sided" and "unfair" in an interview with CNN.
Washington Post: Africans seeking refuge in Israel must first survive perils of Egyptian crossing
Sadiq Sahour slowly recounted a story he has carefully kept hidden from his daughter. It began in an unforgiving desert in Sudan, where he and his wife, Hadja, escaped militiamen who razed their ancestral village.
CNN: Study touts treating heroin addicts with heroin
If treating heroin addicts by giving them heroin seems counterintuitive, having the government fund that addiction to the tune of more than $22,000 per patient per year comes across as downright radical.
CNN: Wheelchair user, 92, arrested for smuggling coke
A 92-year-old woman with cocaine strapped to her body flew all the way from Brazil to Spain before police arrested her, in a wheelchair, at Madrid's airport.
CNN: Vatican welcomes Anglicans into Catholic Church
The Vatican said Tuesday it has worked out a way for groups of Anglicans who are dissatisfied with their faith to join the Catholic Church.
CNN: Report calls Eritrea world's worst country for press freedom
How bad is it to be a journalist in Eritrea? Even reporters who leave the Horn of Africa nation are fearful of talking about what happens there, according to Reporters Without Borders.
BUSINESS
For the latest business news: www.CNNMoney.com.
Fortune: Big banks take your money and run
A river of cash has flowed into the biggest banks over the past year. But for borrowers, it has been more of a meandering stream.
CNNMoney: Federal action prevented second Great Depression - White House
Without the bold steps taken by the federal government over the past year, the country could have fallen into a second Great Depression, said the White House's chief economic adviser.
CNNMoney: Wall Street fat cats fear the pay czar
President Obama's "pay czar" will soon decide whether top executives at firms that received the most assistance from the government during last year's financial crisis are making too much money.
New York Times: For Car Buyers, the Brand Romance Is Gone
To sell a car in the 1980s, dealers had to do little more than open their doors, and loyal buyers would show up to trade in their Chevrolet for a new Chevrolet, or their Toyota for another Toyota.
In Case You Missed It
To watch the latest interviews and reporting: http://www.cnn.com/video.
CNN: Tracy Morgan web extra
Actor/comedian Tracy Morgan talks about his new book and '30 Rock.'
Subscribe to the CNN=Politics DAILY podcast at http://www.cnn.com/politicalpodcast.
And now stay posted on the latest from the campaign trail by downloading the CNN=Politics SCREENSAVER at http://www.CNN.com/situationroom.