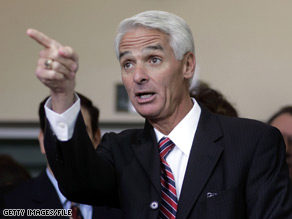 Crist's primary lead over Rubio shrinking.
WASHINGTON (CNN) - The battle for Florida Republican voters appears to be heating up.
A new Quinnipiac University poll suggests that Gov. Charlie Christ's wide lead over former state house speaker Marco Rubio in the GOP senate primary has been cut in half.
According to the survey, which was released Wednesday morning, Crist leads Rubio 50 percent to 35 percent, down from 55 percent to 26 percent in August.
Earlier this week Rubio won the endorsement of a major out-of-state conservative, Sen. James Inhofe of Oklahoma, who said in a statement that Rubio "will stand up for America's taxpayers, not with President Obama and dangerous big government spending."

Inhofe's remark appears to be a jab at Crist for his support earlier this year of President Barack Obama's stimulus package. Inhofe is the second conservative senator to endorse Rubio, following Jim DeMint of South Carolina.
"Gov. Charlie Crist's lead, which had been 29 points August 19, has come back down to earth. His margin is still formidable, but obviously Marco Rubio's focus on convincing Republican conservatives that he, not Crist, is their kind of guy is bearing fruit," says Peter Brown, assistant director of the Quinnipiac University Polling Institute.
According to the poll, Crist tops the leading Democratic senate candidate, Rep. Kendrick Meek, by 20 points, among all Florida voters, in a hypothetical general election match up. The survey indicates that Rubio trails Meeks by three points, which is within the survey's sampling error.
Crist announced earlier this year that he would run for the senate next year, rather than seek re-election as governor. Fellow Republican Mel Martinez announced earlier this year that he would not make a bid for another term in 2010. Martinez stepped down from office last month. Crist appointed former aide George LeMieux to serve out Martinez's term, which expires in January 2011.
The survey indicates that the likely GOP gubernatorial nominee, State Attorney General Bill McCollum, edges the likely Democrat nominee, State CFO Alex Sink, by 4 points, with nearly three in ten Florida voters undecided.
The Quinnipiac University poll was conducted October 12 – 18, with 1,078 Florida voters questioned by telephone. The survey's sampling error is plus or minus 3 percentage points.
–CNN Political Producer Peter Hamby contributed to this report.
Follow Paul Steinhauser on Twitter @psteinhausercnn