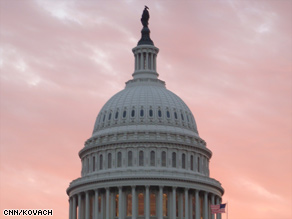 The CNN Washington Bureau's morning speed read of the top stories making news from around the country and the world.
WASHINGTON/POLITICAL
For the latest political news: www.CNNPolitics.com.
CNN: King: Monday Memo: Optional public option risky strategy
It is a busy week ahead, to say the least, and perhaps a telling one in the health care debate.
CNN: Obama declares H1N1 emergency
President Obama has declared a national emergency to deal with the "rapid increase in illness" from the H1N1 influenza virus.
Washington Post: U.S. tested 2 Afghan scenarios in war game
The Pentagon's top military officer oversaw a secret war game this month to evaluate the two primary military options that have been put forward by the Pentagon and are being weighed by the Obama administration as part of a broad-based review of the faltering Afghanistan war, senior military officials said.
CNN: Aide: Reid likely to include public option in Senate health care bill
Senate Majority Leader Harry Reid is poised to proceed with plans to introduce a Senate health care bill with a public health insurance option that would allow states to opt out, a senior aide to Reid told
CNN on Sunday.
CNN: Senate likely to consider various versions of public option
The Senate will consider several versions of a government-run public health insurance option in the chamber's upcoming debate on a health care bill, a Democratic senator predicted Sunday.
CNN: Dem senators diverge on public option
As Democratic leaders in Congress appear to be converging on proposals for a public health insurance option that might win passage in each chamber, the comments of two Democratic senators Sunday suggested that a long fight is likely ahead in the Senate.
USA TODAY: Defense firms in probe received $30M in stimulus money
The Department of Defense has awarded nearly $30 million in stimulus contracts to six companies while they were under federal criminal investigation on suspicion of fraud.
Wall Street Journal: Senate Panel Set to Take on Climate Bill
The Senate debate over climate legislation is set to begin in earnest this week, with a key panel holding hearings on legislation that would curb U.S. greenhouse-gas emissions.
New York Times: U.S. Considers Reining In 'Too Big to Fail' Institutions
Congress and the Obama administration are about to take up one of the most fundamental issues stemming from the near collapse of the financial system last year — how to deal with institutions that are so big that the government has no choice but to rescue them when they get in trouble.
Wall Street Journal: Fed's Tarullo Shakes Up Bank Rules
The rise of Daniel Tarullo, a lawyer with a longstanding interest in bank regulation appointed to the Federal Reserve Board by President Barack Obama, is a sign the era of light-touch bank regulation is over.
CNN: Governors races serve as early test for Obama, Democratic control
Even though President Obama is not on the ballot this November, he and the Democrats who control Congress have a lot on the line.
CNN: NJ Governor's race in final heated sprint
The heated race for Governor in New Jersey is about to get a whole lot tougher in the final 10 days, according to the campaigns of Gov. Jon Corzine and Republican candidate Chris Christie.
Los Angeles Times: Rep. Pete Stark: ambition vs. a big mouth
Pete Stark is sitting in a gilded meeting room in the House of Representatives. It is home to the powerful Ways and Means Committee that the Northern California Democrat might never chair, precisely because of the sort of verbal exchange he is attempting to explain at the moment: "He said to me, 'Don't pee on my leg.' And in a sense I said, 'I won't.' "
CNN: Same-sex marriage battle moves to Maine
Voters in Maine will decide next week whether to overturn the legislation signed by Gov. John Baldacci nearly six months ago that allows same-sex couples to wed.
CNN: Former Bush aide: Emanuel 'uninformed or willfully misleading'
A one-time aide to former President George W. Bush took aim Sunday at recent comments by White House Chief of Staff Rahm Emanuel that questioned the Bush administration's conduct of the war in Afghanistan.
CNN: Cantor: It's time for a bipartisan health bill
Given the heated rhetoric and sharp partisan divides that have characterized this year's debate, it's easy to forget that there are several key reforms in health care that Democrats and Republicans can agree on.
CNN: Zakaria: Karzai likely to win again
Afghanistan's president is downplaying accusations of widespread fraud in his country's recent elections, but he's emphasizing the importance of a runoff for the sake of ensuring peace and stability in his nascent and war-torn democracy.
CNN: Karzai challenger prefers opposition to coalition
The candidate who will face Afghan President Hamid Karzai in a runoff election next month said Friday that he won't join Karzai's government if the incumbent wins another term, but instead will remain in opposition.
Washington Post: A congressman, a lobbying firm and a swift path to earmarks
It takes a while for most start-up companies to gain the confidence of a U.S. congressman and the promise of federal funds. But last year, a small Illinois company accomplished its goal in 16 days with the help of Rep. Peter J. Visclosky, a little-known Indiana Democrat who sits on the House committee that funds the Pentagon.
CNN: King: Ethanol keeps Nebraska running in tough financial times
Neale Shaner views the ups and downs of the economy through the lessons of a life working the family farm: "One thing's certain, and that's uncertainty."
The Hill: Gun fight over Amtrak could throw Transportation bill off the tracks
A push in Congress for broader gun rights is threatening to derail Amtrak and stall a transportation spending bill.
CNN: Obama, national security team to talk strategy in Afghanistan, Pakistan
President Barack Obama on Monday will meet with his national security team on Afghanistan, the White House said Sunday.
CNN: Webb gets 'The Last Word'
Democratic Sen. Jim Webb gave the Obama administration a mixed report card Sunday on CNN's State of the Union: questioning the administration's approach to health care reform but praising its approach to the war in Afghanistan.
CNN: Give McChrystal the troops he wants, Hatch says
Sen. Orrin Hatch, R-UT, said Sunday that, regardless of the political situation on the ground in Afghanistan, President Obama should give U.S. Gen. Stanley McChrystal the 40,000 additional American troops that McChrystal has reportedly requested.
Washington Post: Chamber of Commerce criticizes Obama team
The chief lobbyist for the U.S. Chamber of Commerce alleged Sunday that there is a White House campaign of "invectives" and "name-calling" against his organization, and said the business group is eager to ignore the heated rhetoric.
CNN: The New York Times endorses Bloomberg
The New York Times endorsed Mayor Michael Bloomberg's bid for a third term Saturday, praising his ability to handle the most difficult situations.
Washington Post: A crucial last dash for Deeds backers
A year ago, the sidewalk would have been full of volunteers ready to fan out into the neighborhoods with satchels full of campaign fliers. But on Saturday morning, it was just Tiffany Quivers, standing in front of a Fairfax County strip mall in a "Seize the Day" T-shirt, getting a last-minute primer about the Democrats on the Nov. 3 ballot.
CNN: Members of Congress to face off in football game
On Tuesday, partisan politics will be put aside for a few hours when members of Congress team up with former NFL players for the 4th annual 'Longest Yard' Congressional football game.
CNN: Rep. Grayson calls Cheney a vampire
Controversial freshman Rep. Alan Grayson, who has become famous for attacking the Republicans' health care plan, went on the attack again Friday night, calling former Vice President Dick Cheney a vampire for his recent criticism of the Obama administration's handling of the war in Afghanistan.
CNN: First Lady reveals President Obama's 'annoying' habits
First Lady Michelle Obama made an appearance Friday night on Jay Leno's "Ten at Ten" segment and revealed President Obama's most annoying habits.
NATIONAL
For the latest national news: www.CNN.com.
CNN: 14 Americans dead in copter collisions in Afghanistan
Fourteen Americans died in a pair of helicopter crashes in Afghanistan on Monday, NATO's International Security Assistance Force said.
CNN: Police name 'Jane Doe' found in N.Y.
Authorities on Sunday released the name of a woman who turned up in New York this month saying she had no memory of her name or family.
Boston Globe: Panhandlers move from street to Internet
In the two years since he lost his job as a cook at an MIT fraternity house, Kevin Boudreau has learned the subtle art of how to ask strangers for money. But now, with winter approaching and an aversion to shelters, the homeless man with the grizzled goatee and skull tattoos covering both arms needs more than spare change.
CNN: Pilots of wayward flight talk to NTSB
Federal investigators have interviewed the pilots of a Northwest Airlines flight that overshot the airport in Minneapolis, Minnesota, last week, a National Transportation Safety Board spokesman said on Sunday.
New York Times: A Nation Battling Swine Flu, and Short Vaccine Supplies
Dr. Anthony S. Fauci was talking with fellow federal officials in September, a month before swine flu vaccinations were to begin, when it became clear they had a bigger problem than they feared with supplies.
CNN: N.J. man charged in slaying of priest hospitalized
The New Jersey man charged with murder in the slaying of a Roman Catholic priest was being "treated at a local hospital," the prosecutor said on Sunday.
New York Times: States Pressed Into New Role on Marijuana
Health and law enforcement officials around the nation are scrambling to figure out how to regulate medical marijuana now that the federal government has decided it will no longer prosecute legal users or providers.
CNN: Madoff investor drowns in Florida pool
A key investor with convicted swindler Bernie Madoff drowned in his swimming pool Sunday afternoon, police said.
CNN: Students allege Chicago nightclub barred blacks
Students from Washington University say they have complained to state and federal agencies that a Chicago, Illinois, nightclub barred six African-American members from their senior class trip celebration while admitting nearly 200 white classmates.
New York Times: With More Troubled Families, More Runaways
Dressed in soaked green pajamas, Betty Snyder, 14, huddled under a cold drizzle at the city park as several older boys decided what to do with her.
CNN: Strong winds feared in California wildfire
Firefighters working to extinguish a spreading California brush fire anticipate strong winds will fuel the blaze, which already has damaged property and injured one person, a fire official told CNN.
INTERNATIONAL
For the latest international news: http://edition.cnn.com/
CNN: Deadly bombings worst Iraq attack in two years
Twin car bombs exploded near three Iraqi government buildings Sunday in central Baghdad. It was the deadliest attack in the country in more than two years.
CNN: Report: Nuclear inspectors visit newly revealed Iran plant
United Nations-backed nuclear inspectors on Sunday visited a newly disclosed Iranian nuclear facility near the city of Qom, Iranian media has reported.
CNN: Police arrest 18 at Jerusalem holy site
Palestinians and Israeli police engaged in a standoff for more than five hours at Jerusalem's holiest site Sunday, with police storming the site twice.
New York Times: Salute All Cars, Kids. It's a Rule in China.
All the students at Luolang Elementary School, a yellow-and-orange concrete structure off a winding mountain road in southern China, know the key rules: Do not run in the halls. Take your seat before the bell rings. Raise your hand to ask a question.
CNN: Morrissey treated in hospital after collapse
British singer Morrissey was hospitalized overnight after reportedly collapsing on stage during a concert, medical officials said Sunday.
CNN: Uruguay headed for presidential runoff next month
A former guerrilla fighter jailed for 14 years and an ex-president were headed for a runoff for the presidency of Uruguay, after neither was expected to capture more than 50 percent of the vote in Sunday's election.
CNN: Lockerbie bombing probe continues, prosecutors tell victims' families
Scottish prosecutors are conducting a further review of the evidence related to the Lockerbie bombing, prosecutors have told families of victims from the United Kingdom.
CNN: Three trapped Chinese miners rescued after 8 days underground
Eight days after they were trapped in an underground mine in northwest China, three coal mine workers were rescued early Sunday, state media said.
CNN: Feet from suicide blast, student survives
His legs and arms are wrapped in bandages. His face, shrouded in a mask of cotton.
BUSINESS
For the latest business news: www.CNNMoney.com.
CNNMoney: Gas jumps nearly 18 cents in 2 weeks
Gasoline prices jumped nearly 18 cents over the past two weeks, the first two-week rise since early August, according to a survey published Sunday.
CNNMoney: Stocks: Trying to recharge the rally
The quarterly reporting period has gotten off to a bang-up start, with 81% of companies outshining analysts' forecasts. But with expectations now raised, the latest crop of strong results has had little impact on the broad market.
Fortune: Who cares if Wall Street 'talent' leaves?
There's no need to fear a Wall Street brain drain - despite the crackdown on pay by Washington.
In Case You Missed It
To watch the latest interviews and reporting: http://www.cnn.com/video.
CNN: Egypt races for the cure
CNN's Ben Wedeman reports on a race at Egypt's Great Pyramids, aimed at raising awareness about a once-taboo topic.
Subscribe to the CNN=Politics DAILY podcast at http://www.cnn.com/politicalpodcast.
And now stay posted on the latest from the campaign trail by downloading the CNN=Politics SCREENSAVER at http://www.CNN.com/situationroom.