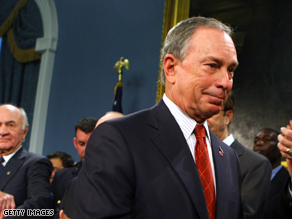 Bloomberg has a clear lead in the New York City's mayoral race.
(CNN) - A new survey suggests that New York City Mayor Michael Bloomberg, vying for a third term in office, holds an 18-point lead over his Democratic rival, with just eight days to go before voters there head to the polls.
According to a Quinnipiac University poll released Monday morning, 53 percent of likely New York City voters support Bloomberg, running as an independent, with 35 percent backing the Democratic candidate, New York City Comptroller William Thompson. Ten percent of those questioned are undecided, and 3 percent support Conservative Party candidate Stephen Christopher.
Bloomberg held a 16-point advantage in a Quinnpiac survey conducted in late September. Bloomberg also held a 16-point lead in a Marist College poll that was released last week.
The Quinnipiac survey suggests that Bloomberg is leading overwhelming among Republicans, has a 36-point advantage among independents, and is splitting the Democratic vote with Thompson. The poll indicates a racial divide, with white voters backing Bloomberg by a 2-to-1 margin, African-Americans supporting Thompson in roughly the same proportion, and Hispanics backing Bloomberg by 14 points.
"It's been shaping up all along, and now the new numbers say it looks like a Bloomberg blowout," says Maurice Carroll, director of the Quinnipiac University Polling Institute.
Bloomberg has captured the endorsement of all three of New York City's major daily newspapers, the Times, Post and Daily News. The Spanish-language daily El Diario La Prensa endorsed Thompson.
The Quinnpiac University poll was conducted October 23-25, with 1,088 likely New York City voters questioned by telephone. The survey's sampling error is plus or minus 3 percentage points.
Follow Paul Steinhauser on Twitter: @psteinhausercnn