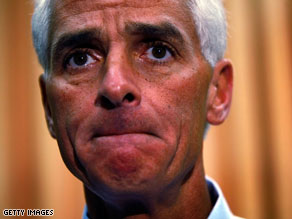 Gov. Charlie Crist is running for Senate in Florida.
(CNN) - In February, Florida Gov. Charlie Crist embraced President Obama when he came to the Sunshine State to campaign for passage of his $787 billion stimulus bill.
This week, the president is back in Florida, speaking to an audience of military personnel in Jacksonville and making a stop in DeSoto County (along with raising money for Democrats in Miami). But Crist - now seeking the Republican Senate nomination in his state - is keeping his distance.
His reason? According to the Palm Beach Post, the governor apparently didn't know Obama was in his state.
Asked by a reporter Tuesday why he didn't join the president in Jacksonville yesterday, Crist responded: "First I've known of it." Crist also said, "I didn't know his itinerary. That's all."
Eric Issac, the governor's spokeswoman, told CNN that Crist knew the president was coming to Florida, but wasn't aware of his specific city-by-city itinerary. "The governor didn't say he didn't know the president was going to be in the state," she said.
The Palm Beach Post pointed out that Crist was eager to appear with Obama earlier this year, when the president's approval ratings in the state were north of 60 percent and before Crist was facing a Republican primary against conservative up-and-comer Marco Rubio. The governor canceled a scheduled Cabinet meeting to join the president on a stage on Fort Myers in February, but he declined to do the same thing on Tuesday as the president makes another Florida stop in DeSoto County.
Isaac said Crist simply has "a full schedule" today.
Rubio's campaign jumped on Crist's remarks, claiming that the president's visit has made the governor "excruciatingly uncomfortable."
"For someone who famously never forgets a name and face, Governor Crist has picked a convenient time to forget the leader of the free world has been in his state, addressing Jacksonville-based troops, raising money in Miami to defeat Republicans in 2010 and touting the Obama-Crist stimulus in Arcadia," Rubio spokesman Alex Burgos said in an e-mail.