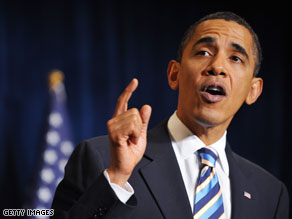 Hollywood to help Obama choose TV ad.
WASHINGTON (CNN) - Supporters of health care reform have entered almost 1,000 videos - from shocking images of people in peril to cartoon shorts - in a Democratic Party contest in which a panel of celebrity judges, party officials and grassroots activists will pick a submission that will be turned into a new television ad.
The list has now been whittled down to 20 ads. A handful of President Obama's Hollywood allies including Will.I.Am, Rosario Dawson and Seth MacFarlane are some of the judges helping to choose the 30-second TV spot that will be paid for by Organizing for America, Obama's political arm at the Democratic National Committee.
Several of the ads promote the inclusion of a public option in the final health care reform bill, while other entries feature children speaking directly to the camera about the issue. The most graphic video, which promotes the public option, shows a highway car crash, a woman drowning and another sitting on a window ledge surrounded by fire.
Organizing for America will send an e-mail out this afternoon naming the 20 videos still in the competition.
Follow Mark Preston on Twitter: @prestoncnn