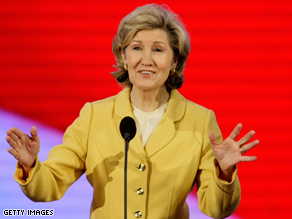 Former Vice President Dick Cheney will endorse Sen. Kay Bailey Hutchison for governor.
(CNN) - Two-term Texas Gov. Rick Perry has already gotten a re-election nod from Sarah Palin, last year's GOP vice presidential nominee. Now primary rival Kay Bailey Hutchison is snagging the endorsement of the man Palin was running to replace.
The Hutchison campaign confirmed Wednesday that former Vice President Dick Cheney - whose low approval ratings might mark him a political liability in most other parts of the country - is endorsing Hutchison's bid, and will raise money for her in Houston on Nov. 17.
Hutchison, who has said she plans to resign her Senate seat but hasn't yet revealed when that might occur, is planning to challenge Perry in next year's Republican primary.