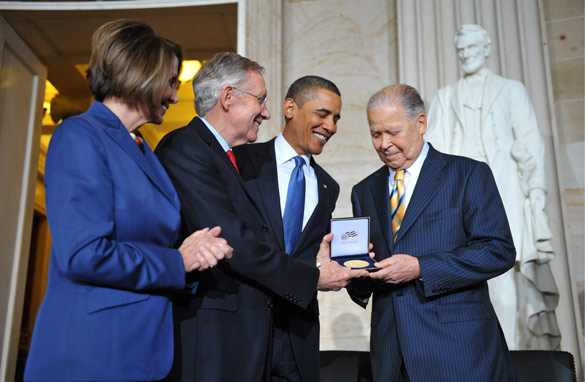 President Obama was joined Wednesday by Speaker Nancy Pelosi and Senate Majority Leader Harry Reid at a ceremony honoring former Sen. Edward Brooke. (Photo Credit: Getty Images)
Washington (CNN) - Edward Brooke, the first African-American elected to the U.S. Senate by popular vote, was honored Wednesday with a Congressional Gold Medal.
"At a time when so many doors were closed to African-Americans, others might have become angry or disillusioned," President Obama told an audience in the Capitol Rotunda, where the ceremony honoring Brooke for Congress' greatest honor was held.
"They might have concluded that no matter how hard they worked, their horizons would always be limited. So why bother? Not Ed Brooke," he said.
Brooke, 90, was a Republican senator from Massachusetts for two full terms, from 1967 to 1979.
"He ran for office, as he put it, to bring people together who had never been together before, and that he did," the president said.