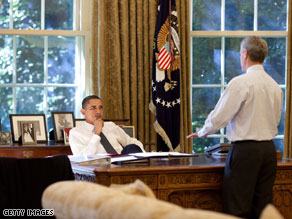 The White House is denying that top donors got special access to administration officials.
WASHINGTON (CNN) - Republicans are seizing on a new report that suggests the Obama administration has been granting top Democratic donors access to senior administration officials if they commit to raising bundles of cash before the 2010 midterm elections.
The story - published Wednesday in the Washington Times - revealed an internal Democratic National Committee memo outlining how high-level donors are named members of a "National Finance Committee" that is granted access to "senior members of the administration" in Washington meetings and conference calls. The paper also listed several campaign donors who have been invited to official state functions, used the bowling alley in the Eisenhower Executive Office Building, or screened movies inside the president's mansion.
Asked if there was any quid pro quo involved, White House press secretary Robert Gibbs said, "No, of course not."
Gibbs downplayed the report during Wednesday's press briefing, boasting that the president has instituted "the very toughest ethics and transparency rules of any administration." Following up on an earlier pledge to do so, he added that the White House will soon release White House guest logs cataloguing every person who has visited the White House, including details on "who that person is, when they came, how long they were here and who they met with."
"Contributing doesn't guarantee a visit to the White House, nor does it preclude it," Gibbs said. "Hundreds of thousands of people have visited the White House since the president came in." He then referred further questions to the DNC.
DNC spokesman Brad Woodhouse said the committee "routinely identifies appropriate opportunities for party supporters to meet their leaders in the Administration and the Democratic Congressional majority," he said in an e-mail. "This is true for donors, grassroots activists and others who are engaged and active on behalf of our party in different ways and who welcome the chance to meet their leadership."
The Republican National Committee is not satisfied.
RNC chairman Michael Steele released a statement Wednesday calling for an investigation into "into the degree and details of fundraising efforts between the White House and DNC, whether there was any quid pro quo offered to donors, and the names of White House officials who were involved in such activities."
"For a candidate who campaigned on transparency, it is beyond hypocritical for the White House to simply shrug off questions about the privileges provided high dollar Democrat donors," RNC spokesman Gail Gitcho said in an e-mail to CNN. "This is a serious issue of transparency the American people need answered."