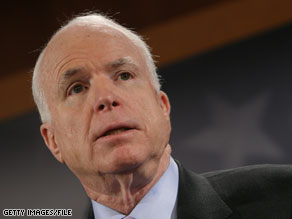 John McCain says America must win the war in Afghanistan.
The following is a commentary from Sen. John McCain:
WASHINGTON (CNN) - For the first time since September 11, 2001, America is having a vigorous national debate about how to succeed in Afghanistan. This debate is entirely worth having. Whenever America sends its citizens into harm's way, it must do so with eyes wide open.
Though no veteran would ever think of himself as "pro-war," I believe that the fight in Afghanistan is critical to our national security. Our goals there are achievable and success is worth the continued sacrifice.
We must succeed in Afghanistan for many reasons, but one stands above all: the world walked away from Afghanistan once, and it descended into a cauldron of violence, hatred and human rights atrocities that served as the base for the worst terrorist attack in history against our homeland.