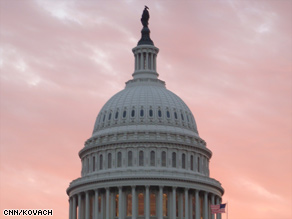 The CNN Washington Bureau's morning speed read of the top stories making news from around the country and the world.
WASHINGTON/POLITICAL
For the latest political news: www.CNNPolitics.com.
CNN: Public option would lead him to filibuster, key senator says
Independent Sen. Joseph Lieberman said Tuesday he would join a Republican filibuster to block the final vote on any health care bill that has a government-run public health insurance option.
CNN: U.N. staff killed in Taliban attack in Kabul
Taliban militants attacked a private guesthouse in central Kabul on Wednesday morning, killing at least six U.N. staff members and wounding nine more, according to a U.N. spokesman.
CNN: Powerful car bomb kills at least 57 in Peshawar market
A powerful car bomb ripped through a bustling marketplace in Peshawar, killing at least 57 people on Wednesday, officials said.
New York Times: Brother of Afghan Leader Is Said to Be on C.I.A. Payroll
Ahmed Wali Karzai, the brother of the Afghan president and a suspected player in the country's booming illegal opium trade, gets regular payments from the Central Intelligence Agency, and has for much of the past eight years, according to current and former American officials.
CNN: Obama to meet with Joint Chiefs on Afghanistan
President Obama is scheduled to meet with the Joint Chiefs of Staff on Friday as part of his reassessment of the military strategy in Afghanistan, a White House spokesman said Tuesday.
New York Times: U.S. to Protect Populous Afghan Areas, Officials Say
President Obama's advisers are focusing on a strategy for Afghanistan aimed at protecting about 10 top population centers, administration officials said Tuesday, describing an approach that would stop short of an all-out assault on the Taliban while still seeking to nurture long-term stability.
CNN: Afghanistan haunted by ghost of Vietnam
While President Obama's war council deliberates its strategy toward Afghanistan, the ghost of Vietnam is often invoked as a warning.
CNN: Clinton arrives in Pakistan to write new chapter in relations
The U.S. secretary of state arrived Wednesday in nuclear-armed Pakistan, a country hit hard by terrorism, economic crisis and rising sentiment that it is paying too high a price for its partnership with the United States in fighting extremists.
Washington Post: Proposed long-term insurance program raises questions
As congressional leaders haggle over the shape of a proposed government-run "public option" in health-care reform legislation, a quiet revolt is brewing against a different public insurance program - a plan to create government insurance for long-term care.
CNN: Obama unveils $3.4 billion in 'smart grid' energy awards
President Barack Obama announced $3.4 billion in Smart Grid Investment Grant awards Tuesday, part of the administration's ongoing push for clean energy reform.
CNN: Democrats push green energy agenda
Top Democrats put the issue of climate change back in the spotlight Tuesday, debating legislation to cut greenhouse gas emissions while announcing $3.4 billion in new clean energy funds.
New York Times: A Drop in the Wrong Bucket
If you wanted to help the economy and you had $14 billion to bestow on any group of people, which group would you choose?
Washington Post: Fisker to build hybrid cars at idled Del. GM plant
Luxury automaker Fisker Automotive is buying a shuttered General Motors assembly plant in Delaware to produce plug-in hybrid electric cars, officials said Tuesday.
Wall Street Journal: GMAC Asks for Fresh Lifeline
In a stark reminder of how some battered financial firms remain dependent on government lifelines, GMAC Financial Services Inc. and the Treasury Department are in advanced talks to prop up the lender with its third helping of taxpayer money, people familiar with the matter said.
Bloomberg: Ford Mustang Plant Among Six to Reject Concessions
Ford Motor Co.'s Mustang plant in Flat Rock, Michigan, is among six factories to reject contract concessions the automaker is seeking to match those the United Auto Workers granted its U.S. rivals.
Los Angeles Times: Angry taxpayers burn bank execs in effigy, demand end to using bailout dollars to fight bank reform
Remember those summer protests against healthcare reform, when angry conservatives overwhelmed congressional town hall meetings with accusations that President Obama was a closet socialist?

CNN: Jarrett makes, retracts charge Fox is biased
The White House carefully continued its assault on Fox News Tuesday, as a senior White House adviser told CNN's Campbell Brown that the network was "of course" biased against the Obama administration, but immediately backtracked slightly.
CNN: Polls: Rise in public support for government option
As Senate Majority Leader Harry Reid pushes for a health care reform bill that includes a public option, national polling suggests a rise in support among Americans for a government-financed plan that would compete with private insurance.
Washington Post: Economy is kick-started, but can it motor ahead?
Over the past year, the U.S. government has thrown almost every tool at its disposal toward making the economy grow again. And it has worked, at least for now.
CNNMoney: Geithner: More TARP paybacks coming
Treasury Secretary Timothy Geithner said Tuesday he expects a wave of banks to return government bailout money to taxpayers soon.
Fortune: SEC head Mary Schapiro: Blame us for financial crisis too
Regulators were as culpable for the financial crisis as banks, mortgage originators, and the ratings agencies, Securities and Exchange Chairman Mary Schapiro said Tuesday.
Washington Post: N.Y. Fed pushed AIG on contracts
The Federal Reserve Bank of New York said Tuesday that it had no choice but to instruct American International Group last November to reimburse the full amount of what it owed to big banks on derivatives contracts, a move that ended months of effort by the insurance giant to negotiate lower payments.
CNN: Corzine nearly exhausts self-funded campaign war chest
Despite pouring millions into his re-election bid from his personal fortune, New Jersey Gov. Jon Corzine finds himself entering the final stretch before Election Day with significantly less money in his campaign warchest than his publicly financed Republican opponent.
First on the Ticker: Hollywood to help Obama choose TV ad
Supporters of health care reform have entered almost 1,000 videos – from shocking images of people in peril to cartoon shorts – in a Democratic Party contest in which a panel of celebrity judges, party officials and grassroots activists will pick a submission that will be turned into a new television ad.
Washington Post: Lobbyist charged with violating Sudan sanctions
A Washington lobbyist is charged with violating U.S. economic sanctions against the outlaw regime in Sudan and using multiple passports, an offshore bank account and other tactics to hide his activities, according to a federal indictment unsealed Tuesday.
CNN: The abortionist and his No. 1 foe
When you cross The Line of Death onto clinic property, the protesters stare at you. They get on walkie talkies and relay information: Your car. What you look like. Any identifying detail.
CNN: Pawlenty to raise money for Senate Republicans
Tim Pawlenty has added another stop to his increasingly busy national itinerary.
POLITICO: Ned Lamont could 'opt in' vs. Joe Lieberman
Former Connecticut Senate candidate and progressive standard-bearer Ned Lamont blasted Sen. Joe Lieberman (I-Conn.) Tuesday for announcing that he would support a Republican filibuster of any health care reform bill that included a public health insurance option.
First on the Ticker: Palin to Iowa?
A political organization formed to promote Sarah Palin is trying to raise $41,000 to help pay for a potential appearance by the former Alaska governor next month before an influential conservative group in Iowa.
CNN: Palin paid at least $1.25 million in book deal
Sarah Palin was paid at least $1.25 million for her book deal with publisher Harper Collins, newly filed financial disclosure forms reveal.
CNN: Ron Paul to visit South Carolina
Will Ron Paul give it another go in 2012?
CNN: Crist unsure of Obama's Florida itinerary
In February, Florida Gov. Charlie Crist embraced President Obama when he came to the Sunshine State to campaign for passage of his $787 billion stimulus bill.
CNN: Sanford impeachment effort hits speed bump
A Republican legislator in South Carolina moved to introduce a resolution of impeachment against Gov. Mark Sanford on Tuesday during a one-day special session of the state legislature, but his attempt was ruled "out of order" by the Speaker of the House, who said the measure must be submitted at a later date.
CNN: Grayson apologizes for 'whore' comment
Florida Democrat Rep. Alan Grayson issued a written apology Tuesday evening for a comment for a month-old comment that has stirred controversy on Capitol Hill in recent days.
CNN: First daughters get H1N1 shots as supplies increase
The first daughters have gotten it along with other children, and more residents around the nation may soon be able to get the H1N1 flu vaccine as health officials say more is on its way.
New York Times: First, Second Ladies to Attend World Series
First Lady Michelle Obama and Jill Biden will attend the opening game of the World Series at Yankee Stadium on Wednesday night as part of their effort to encourage Americans to support military families, the White House announced on Tuesday. Major League Baseball has dedicated the game to America's veterans.
NATIONAL
For the latest national news: www.CNN.com.
CNN: 8 U.S. soldiers killed in Afghanistan
The U.S. military suffered another day of heavy losses in Afghanistan on Tuesday as roadside bombs killed eight soldiers, two military officials told CNN.
CNN: Police: As many as 20 present at gang rape outside school dance
Investigators say as many as 20 people were involved in or stood and watched the gang rape of a 15-year-old girl outside a California high school homecoming dance Saturday night.
CNN: Pilots of wayward jet lose licenses
The Federal Aviation Administration revoked the licenses of two Northwest Airlines pilots Tuesday in an extraordinary letter in which the agency chastised the pair, saying they endangered the public by flying an hour and half without contacting controllers "while you were on a frolic of your own."
Washington Post: Espionage suspect has friends puzzled
By all accounts, Stewart D. Nozette is a brilliant and creative scientist, an astronomer who once sketched a key part of a lunar mission on the back of a cocktail napkin and daydreamed of colonizing the moon.
CNN: Video shows hikers' 'lightness of heart' before Iran prison, mom says
On Tuesday, the counter at the Web site Free the Hikers was at 88 days.
CNN: Couple alive after car pins them to bed for almost an hour
With motor fluid spraying their faces and the weight of a car numbing their bodies, two Nevada college students struggled to stay calm after a drunk driver allegedly tore into their home, ripping them from their slumber.
Washington Post: States mismanage student information, study concludes
States often collect far more information about students than necessary and fail to take adequate steps to protect their privacy, a national study concludes. The dossiers go far beyond test scores, including Social Security numbers, poverty data, health information and disciplinary incidents.
CNN: Three arrested in college athlete's death
A 21-year-old man was charged with murder Tuesday in connection with the stabbing death of a University of Connecticut football player this month, police said.
Washington Post: Flu-wary telecommuters may clog Web networks, GAO says
As the spread of the H1N1 flu keeps more Americans away from work and school, a federal report warns that all those people logging on to the Web from home could overwhelm Internet networks.
New York Times: Push to Legalize Marijuana Gains Ground in California
These are heady times for advocates of legalized marijuana in California — and only in small part because of the newly relaxed approach of the federal government toward medical marijuana.
CNN: Cable breaks from San Francisco bridge
A piece of steel and cable fell from the San Francisco Bay Bridge onto the roadway Tuesday, causing an apparently minor two-car accident but backing up traffic for miles, the California Highway Patrol said.
CNN: Police: Guard shot, killed patient who stabbed doctor
An off-duty security guard Tuesday fatally shot a psychiatric patient who had stabbed a doctor at a medical building in Boston, Massachusetts, police said.
CNN: D.C. sniper scheduled to die next month
Convicted Beltway sniper John Allen Muhammad is scheduled to be executed by lethal injection November 10, a Virginia corrections official said Tuesday.
INTERNATIONAL
For the latest international news: http://edition.cnn.com/
CNN: Detecting IEDs is daunting challenge for U.S. military
The most dangerous threat for U.S. troops in Afghanistan has come from roadside bombs - often referred to as IEDs, short for improvised explosive devices.
CNN: Pirates may have captured couple, yacht
Naval forces from several countries were searching Tuesday for a British couple and their missing yacht, which may have been hijacked by pirates off the coast of Africa, military sources told CNN.
CNN: Gates Foundation wants global health push
Global philanthropists Bill and Melinda Gates are launching a major push to convince the United States to maintain government spending on worldwide health initiatives, despite the financial crisis and a soaring U.S. budget deficit.
CNN: Refugees protest food disruption in Uganda
Refugees at a settlement in southwestern Uganda have barricaded all roads into the camp to protest a food-aid disruption they say has caused the deaths of several children, refugee leaders said Tuesday.
CNN: Royal pardon for Saudi journalist sentenced to lashes
Saudi Arabia's King Abdullah has been called "The King of Hearts" by many of his countrymen, referring to what they believe are his compassionate attempts to reform his ultra-conservative kingdom.
BUSINESS
For the latest business news: www.CNNMoney.com.
CNNMoney: Wall Street plays new game of risk
Hey there risk. Welcome back. What's shaking?
Wall Street Journal: Landlords Sweeten Pot for Renters
Some of the country's top office-building owners reported they are cutting rents and increasing tenant incentives to keep buildings filled during one of the worst commercial real-estate markets in decades.
CNNMoney: IRS to rich tax cheats: Be afraid. Be very afraid.
The Internal Revenue Service detailed plans on Monday to weed out wealthy, international tax cheats with renewed urgency.
In Case You Missed It
To watch the latest interviews and reporting: http://www.cnn.com/video.
CNN: Witness to war on BackStory
A former Bosnian soldier speaks to CNN about his personal account of that time as a witness to war.
Subscribe to the CNN=Politics DAILY podcast at http://www.cnn.com/politicalpodcast.
And now stay posted on the latest from the campaign trail by downloading the CNN=Politics SCREENSAVER at http://www.CNN.com/situationroom.