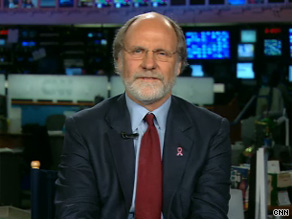 Corzine now holds a 5 point lead, according to a new poll.
(CNN) - With six days until Election Day, a new poll suggests that New Jersey Governor Jon Corzine leads his Republican challenger, Chris Christie, by 5 points.
According to a Quinnipiac University survey released Wednesday morning, 43 percent of likely New Jersey voters back Corzine, the Democratic incumbent fighting for a second term, 38 percent support Christie, the former federal prosecutor in the Garden State, and 13 percent back Independent candidate Chris Daggett.
Corzine's 5 point lead is just with in the poll's sampling error. The race between Corzine and Christie was tied up in Quinnipiac's last poll, which came out two weeks ago. Most surveys in New Jersey over the past month have suggested that Corzine and Christie were deadlocked, with Daggett in the mid teens.
The Quinnipiac poll indicates that nearly four in 10 Daggett supporters may change their mind by Election Day, with 43 percent saying Christie's their second choice and 27 percent feeling Corzine is their number two. Only a small percentage of Corzine or Christie supporters say they might change their mind.
According to the poll, less than four in 10 approve of the job Corzine's doing as governor, but that's his best overall approval rating in months.
"You could see it coming. Governor Jon Corzine's numbers crept steadily up and Christopher Christie's steadily shrank and now, for the first time, we have Corzine ahead," says Maurice Carroll, director of the Quinnipiac University Polling Institute. "But don't be in a hurry to mark this election as over. Christopher Daggett changed it from 'ABC' – Anybody But Corzine – to a real three-way scrap. But a lot of Daggett's voters say they might change their minds by Election Day. Where will they go?"
The Quinnipiac University poll was conducted October 20-26, with 1,267 New Jersey likely voters questioned by telephone. The survey's sampling error is plus or minus 2.8 percentage points.
Follow Paul Steinhauser on Twitter @psteinhausercnn