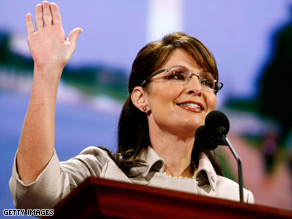 Join the conversation on Jack's blog.
As Sarah Palin prepares to release her memoir next month, it seems like so much of her life is already an open book. Palin - who quit as Governor of Alaska in the middle of her first term - has been having a nasty public battle with the father of her grandson.
Levi Johnston - the former boyfriend of Palin's daughter, Bristol - says Sarah Palin describes her son Trig, who has Down syndrome, as "retarded." Johnston also claims to know a lot more about what went on in the Palin household - so presumably, there is more tabloid trash to come.
Sarah Palin is pushing back - calling Johnston's claim "inflammatory," and saying Trig is their "blessed little angel" who knows it and is lovingly called that every day of his life.
Palin also suggests that Johnston - who is preparing for a photo shoot with Playgirl Magazine - is desperate for publicity. Sort of like Sarah Palin is.
To read more and contribute to the Cafferty File discussion, click here