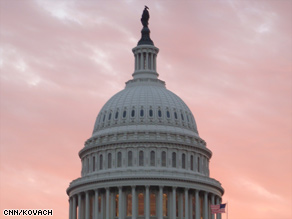 The CNN Washington Bureau's morning speed read of the top stories making news from around the country and the world.
WASHINGTON/POLITICAL
For the latest political news: www.CNNPolitics.com.
CNN: Obama attends return of fallen troops from Afghanistan
The flag-draped caskets of at least 18 Americans killed in Afghanistan arrived at Dover Air Force Base in Delaware early Thursday, government and military officials said.
CNN: McCain: Why we can - and must - win the war in Afghanistan
For the first time since September 11, 2001, America is having a vigorous national debate about how to succeed in Afghanistan. This debate is entirely worth having. Whenever America sends its citizens into harm's way, it must do so with eyes wide open.
Washington Post: Obama seeks study on local leaders for troop decision
President Obama has asked senior officials for a province-by-province analysis of Afghanistan to determine which regions are being managed effectively by local leaders and which require international help, information that his advisers say will guide his decision on how many additional U.S. troops to send to the battle.
New York Times: Reported Ties From C.I.A. to a Karzai Spur Rebukes
Senior lawmakers from both parties on Wednesday criticized what American officials said were financial ties between the Central Intelligence Agency and Ahmed Wali Karzai, a brother of the Afghan president, with one top Democrat suggesting that intelligence officials had misled him about Mr. Karzai's role in Afghanistan's opium trade.
Los Angeles Times: Afghan attack puts aid programs at risk
The deaths of five U.N. employees in a Taliban assault on a Kabul guesthouse Wednesday is forcing the world body and humanitarian agencies to reevaluate the way they operate in Afghanistan, officials said, putting at risk programs aimed at helping millions of people and stabilizing the war-torn country.
CNN: Democrats ready with tempered public option, aides say
House Democratic leaders will unveil on Thursday a health care bill that includes a more moderate version of the public option, several Democratic leadership aides tell CNN.
CNN: Van Hollen: House bill will likely have 'negotiated rate' public option
A long-awaited House health care bill will likely include a "negotiated rate" public health insurance option, Rep. Chris Van Hollen told CNN after a closed-door meeting Wednesday with members of the House leadership to finalize their version of the legislation.
CNN: Gibbs denies quid pro quo after DNC donor story
Republicans are seizing on a new report that suggests the Obama administration has been granting top Democratic donors access to senior administration officials if they commit to raising bundles of cash before the 2010 midterm elections.
Wall Street Journal: Politicians Butt In at Bailed-Out GM
Montana Rep. Denny Rehberg was no fan of the $58 billion federal rescue of General Motors Co., saying he worried taxpayer money would be wasted and the restructuring process would be vulnerable to "political pressure." Now the lawmaker says it's his "patriotic duty" to wade into GM's affairs.
USA TODAY: Stimulus helps fill coffers for states
A historic nosedive in state tax collections extended into the third quarter of the year, and only an infusion of federal stimulus money has averted widespread program cuts and worker layoffs.
CNN: Senate likely to extend homebuyers' tax credit
Senate leaders have reached a tentative deal to extend the first-time homebuyers' tax credit that was originally passed earlier this year as part of the stimulus bill, Republican and Democratic sources told CNN on Wednesday.
CNN: U.S. set to pay Taliban members to switch sides
There is a well-known saying in Afghanistan: "You can rent an Afghan, but you can't buy him."
CNN: Clinton has tough sell in repairing scarred relationship with Pakistan
Just a few hours after Secretary of State Hillary Clinton arrived in Islamabad, a massive car bomb exploded in a crowded market frequented by women in the northwest city of Peshawar, a two-hour drive away.
New York Times: U.S. Quietly Speeds Aid for Pakistani Drives on Taliban
Even as the Pakistani government plays down the American role in its military operations in Taliban-controlled areas along the border with Afghanistan, the United States has quietly rushed hundreds of millions of dollars in arms, equipment and sophisticated sensors to Pakistani forces in recent months, said senior American and Pakistani officials.
CNN: Obama signs hate crimes bill into law
President Obama on Wednesday signed a law that makes it a federal crime to assault an individual because of his or her sexual orientation or gender identity.
CNN: House panel considers brain injuries and NFL players
Are professional football players at greater risk of dementia and other neurological problems?
CNN: Romney: Massachusetts plan did not cut health care costs
Former Massachusetts Gov. Mitt Romney is acknowleding that the health care plan he famously implemented as governor did nothing to address costs.
New York Times: Shortage of Vaccine Poses Political Test for Obama
The moment a novel strain of swine flu emerged in Mexico last spring, President Obama instructed his top advisers that his administration would not be caught flat-footed in the event of a deadly pandemic. Now, despite months of planning and preparation, a vaccine shortage is threatening to undermine public confidence in government, creating a very public test of Mr. Obama's competence.
CNN: Former senator awarded Congressional Gold Medal
Edward Brooke, the first African-American elected to the U.S. Senate by popular vote, was honored Wednesday with a Congressional Gold Medal.
Wall Street Journal: Congress Weighs Scope of Fed's Authority
Get ready for a fiery debate about the role of the Federal Reserve. The latest financial-regulation legislation moving through Congress would give the Fed new oversight powers, including the authority to force large firms to shrink if their size threatens the broader economy.
CNN: Hagel to co-chair Obama intel board
President Obama plans to name a maverick Republican, former Sen. Chuck Hagel, to co-chair a powerful board that will oversee the work of the intelligence community at a time when CIA officials are facing investigations into whether the agency's enhanced interrogation program violated the law during the Bush administration.
Los Angeles Times: Meg Whitman's radio whoppers
We instinctively grant latitude to advertisers, whether they're peddling politicians, dog food or miracle paring knives. But we do expect that an ad will not flat-out lie.
CNN: Poll suggests Corzine inches ahead in New Jersey race
With six days until Election Day, a new poll suggests that New Jersey Governor Jon Corzine leads his Republican challenger, Chris Christie, by 5 points.
CNN: Steele standing behind Scozzafava
After a dizzying few days of prominent Republican endorsements of the Conservative Party's nominee in New York's 23rd congressional district, Republican National Committee Chairman Michael Steele said he will stand behind the embattled GOP candidate in the upcoming special election.
CNN: Cheney endorsing Hutchison for Texas governor
Two-term Texas Gov. Rick Perry has already gotten a re-election nod from Sarah Palin, last year's GOP vice presidential nominee. Now primary rival Kay Bailey Hutchison is snagging the endorsement of the man Palin was running to replace.
CNN: Political star power descends on Virginia
With only five days until Election Day, Virginia is has become ground zero for the political glitterati.
Washington Post: McDonnell critics question ideology
In one of his first moves after being sworn in as Virginia's attorney general in 2006, Republican Robert F. McDonnell advised the newly elected Democratic governor that he had overstepped his constitutional authority when he outlawed bias against gays in state hiring.
CNN: Analysis: Palin's high-risk, high-reward strategy
When Sarah Palin weighed in last week on the contentious special congressional election in New York, she did so in her trademark way: unconventionally.
CNN Poll: 7 in 10 say Palin not qualified to be president
More than seven in 10 Americans think Sarah Palin is not qualified to be president, according to a new national poll.
CNN: Palin blasts Johnston for 'attention getting lies'
The national war of words between Sarah Palin and the man who was nearly her son-in-law flared up once again on Wednesday, as Levi Johnston accused Palin of frequently describing her son Trig, who has Down syndrome, as "retarded."
McClatchy: Guantanamo prisoners to get swine flu vaccine
Even as some Americans await the arrival of their swine flu vaccines, the Pentagon has decided to vaccinate both soldiers and terror suspects at Guantanamo Bay, Cuba.
New York Times: In Cancún, Police Pick Wrong People for 'Bite'
"Piece of cake," the three police officers might have thought when they spied the rental car with five American tourists driving down the main drag of Cancún's hotel zone.
CNN: Senators play ball: 'you're going down!'
The players have yet to hit the field, but World Series trash-talking is already in full swing – on Capitol Hill.
CNN: Political rivals become gridiron warriors
Partisan politics was shelved for a few hours Tuesday night as Democratic and Republican congressmen teamed up with former NFL players in a gridiron battle against the U.S. Capitol Police.
CNN: Did Schwarzenegger say f**k you to legislature?
Was Gov. Arnold Schwarzenegger's message to state lawmakers unhappy – or obscene?
NATIONAL
For the latest national news: www.CNN.com.
CNN: Five arrested in alleged gang rape; juveniles being charged as adults
Police investigating the gang rape of a 15-year-old girl have arrested five people, a police spokesman said Wednesday.
CNN: Feds: Leader of Islamic group killed
The leader of a group of African-American converts to Islam was fatally shot in Detroit, Michigan, Wednesday, federal authorities said.
New York Times: Loosening of F.B.I. Rules Stirs Privacy Concerns
After a Somali-American teenager from Minneapolis committed a suicide bombing in Africa in October 2008, the Federal Bureau of Investigation began investigating whether a Somali Islamist group had recruited him on United States soil.
Boston Globe: United in loss, 9/11 families are divided on Afghan war
Terry Greene of Cambridge had just dropped her son at school when she heard on the radio that a second tower at the World Trade Center had been hit by an airliner. At that moment, on the morning of Sept. 11, 2001, Greene knew that the tragedy in New York was no accident.
Wall Street Journal: Slump Sinks Visa Program
A coveted visa program that feeds skilled workers to top-tier U.S. technology companies and universities is on track to leave thousands of spots unfilled for the first time since 2003, a sign of how the weak economy has eroded employment even among highly trained professionals.
CNN: Bay Bridge closure threatens to snarl traffic at least one more day
Officials warned Wednesday that the bridge linking the California cities of San Francisco and Oakland will likely remain closed Thursday morning, promising more delays for Bay Area commuters.
CNN: Census will report same-sex couples, gay groups see opportunity
Peter Dziedzic and his husband, Jay Judas, aren't quite sure yet which of them will be designated the head of household when they fill out the 2010 census form in April.
CNN: Army allows Sikh to keep beard, turban, uncut hair
The U.S Army has granted a member of a religious minority permission to keep his turban, beard and uncut hair while he serves in the military, the Pentagon and a group representing him said.
CNN: Chicago nightclub to join students' anti-discrimination rally
A Chicago, Illinois, nightclub accused of barring six African-American students last week will participate in a rally against discrimination late next month, the senior class president of Missouri's Washington University said Wednesday.
INTERNATIONAL
For the latest international news: http://edition.cnn.com/
CNN: Iraqi Kurdish bloc to boycott vote
The Kurdish bloc in the Iraqi parliament intends to boycott the vote on a proposed election law if the oil-rich province of Kirkuk is banned from voting in next year's national elections, two Kurdish lawmakers said.
CNN: Bombs injured kids, exposed weaknesses
The force of the blast threw Rawnaq against the wall of her office at the Ministry of Justice. She instantly thought of her two children in the day care center just two floors below.
CNN: Analysis: Iraq not ready to face al Qaeda
The bombs that ripped through Baghdad on Sunday immediately brought more bloodshed - and bode only of the promise of more to come.
New York Times: Deep Corruption Rattles Iraq's Fragile State
As Iraqi officials work to assign blame for the deadly attacks on the heart of the government on Sunday, concern is rising that a greater security threat may come from within the system in the form of corruption, from the top leadership of ministries down to soldiers who man checkpoints.
CNN: Ex-Australian FM: Israel, Iran held nuclear meeting
A former Australian foreign minister said Wednesday he was encouraged by exchanges "across the room" between Israeli and Iranian representatives during a meeting both attended last month.
CNN: 5 people arrested in Karachi for alleged terror activities, police say
Police say they have arrested five people who were attempting to set up a terror network in Karachi.
Washington Post: In China, too, a health-care system in disarray
Shen Baohou, 72, who once worked for a hydropower station in Sichuan province, has a serious heart problem, and he - and his children - are paying for it dearly.
BBC: EU leaders brace for tough summit
Climate change and the Lisbon reform treaty are set to dominate a European Union summit opening later in Brussels.
CNN: Police disperse hungry protesters in Ugandan refugee camp
Police fired warning shots Wednesday near a crowd of protesters at a refugee settlement in southwestern Uganda. A refugee leader said two refugees were killed, but police said no one died.
CNN: In India's villages: No toilet, no bride
Most Indian mothers want their daughters to marry decent men who make a good living. Now, in parts of rural India, women have a new - and rather unusual - demand for matrimony: a toilet.
CNN: From Rwanda to Bosnia: Devastating impact of world's tragedies
Over the last two decades the humanitarian organization International Medical Corps has cared for hundreds of thousands of victims of wars and natural disasters in more than 25 countries.
BUSINESS
For the latest business news: www.CNNMoney.com.
CNNMoney: $8,000 home credit still in play
Confused about whether lawmakers will extend the $8,000 first-time homebuyer credit and what it would look like?
CNNMoney: Don't expect a Great Recovery
The economy may get a good report card Thursday for the first time in a long time.
CNNMoney: Madoff victims get half a billion ... and counting
More than $500 million has been returned to the victims of Ponzi schemer Bernard Madoff, according to the trustee in charge of recovering stolen assets.
CNNMoney: Solution to Detroit's jobless: Move
Detroit continued to lead the nation's cities of 1 million people or more with the highest unemployment rate in September, according to government figures released Wednesday.
In Case You Missed It
To watch the latest interviews and reporting: http://www.cnn.com/video.
CNN: Cuban embargo supporters
Many Cubans are supporters of the embargo against Cuba even if it fell short of its purpose. CNN's Rafael Romo reports.
Subscribe to the CNN=Politics DAILY podcast at http://www.cnn.com/politicalpodcast.
And now stay posted on the latest from the campaign trail by downloading the CNN=Politics SCREENSAVER at http://www.CNN.com/situationroom.