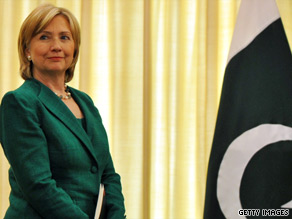 Clinton says it's time to move past the 2008 election.
(CNN) - One day after a new book revealed former President Bill Clinton's 2008 campaign trail outbursts may have prevented his wife from landing a spot on the Democratic ticket, Secretary of State Hillary Clinton says it's time to move past last year's election.
"I'm very happy with the position that I have and I think Joe Biden's doing a great job as vice president, so I think we should move on from the campaign of 2008," Clinton told CNN's Jill Dougherty in Pakistan earlier Friday.
In excerpts released Thursday of David Plouffe's forthcoming book, the former Obama campaign manager writes he was surprised at how interested Obama was in picking Clinton for his running mate after the hard-fought Democratic primary race came to an end.
Ultimately, Plouffe writes, Obama ruled against Clinton in fear her husband may have proved to be "too big a complication."
"If I picked her, my concern is that there would be more than two of us in the relationship," Plouffe quotes Obama as saying.
The new book, titled The Audacity to Win, hits book stores November 3.