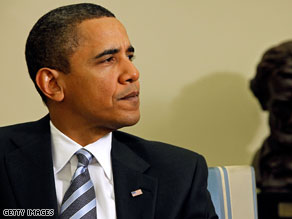 One year after he won an historical presidential election, a slight majority of Americans approve of the job Barack Obama's doing in the White House.
WASHINGTON (CNN) – One year after he won an historical presidential election, a slight majority of Americans approve of the job Barack Obama's doing in the White House.
Fifty-four percent of people questioned in a CNN/Opinion Research Corporation survey released Tuesday morning approve of how Obama's handling his duties as president, with 45 percent saying they disapprove.
"Obama's approval rating of 54 percent is nearly identical to the 53 percent of the vote he won a year ago," notes CNN Polling Director Keating Holland. "And in nearly every demographic category, the percent that approve of Obama today is within two to three points of the percent who voted for him in 2008. It's a different story when we turn to ideology. His approval rating among liberals is seven points higher than the number of liberals who voted for him. But among conservatives, the number who like Obama today is down 10 points compared to his share of the vote among that group in 2008."
The survey suggests that the president's approval rating remains over 50 percent even though most Americans disapprove of how Obama is handling the economy, health care, Afghanistan, Iraq, unemployment, illegal immigration and the federal budget deficit.
How does he do it?
"By retaining a reservoir of goodwill left over from his election to the White House a year ago. Six in ten say Obama inspires confidence in them; six in ten also call him a strong leader who is honest and trustworthy. 63 percent say he is not a typical politician. More than half gives Obama a thumbs-up on 11 of the 12 personal characteristics tested," adds Holland.
Only 45 percent say he has a clear plan for solving the country's problems - the only item on which a majority has a negative view of him.
It's a different story when it comes to issues. More than half have a positive view on Obama on only three of the 14 issues noted in the survey. Obama does get a 62 percent approval rating on the environment and - despite recent vaccine shortages – 57 percent approve of how he has handled the government response to the H1N1 flu.
But a bare majority – 51 percent - approve of how Obama is handling foreign policy overall even though he gets some of his lowest scores on Iraq and Afghanistan.
Three days after winning the election, then president-elect Obama he would succeed "if we put aside partisanship and politics and work together as one nation. That's what I intend to do."
Do Americans think the president will unite the country? The poll indicates Americans are divided, with 51 percent saying Obama will united the country and 48 percent feeling he will not succeed in ending partisanship.
Another factor that may be boosting Obama's overall rating is the inevitable comparison with the man he replaced in the Oval Office. 57 percent say Obama has been a better president than George W. Bush; only a third say Bush's track record was better.
"Compared to Obama, Bush does fairly well among southerners and rural voters. But even in those categories, a majority still says Obama has done a better job than Bush," says Holland.
The survey also suggests that by 24 points, Americans think that Joe Biden is a better vice president than Dick Cheney.
The CNN/Opinion Research Corporation poll was conducted October 30-November 1, with 1,018 adult Americans questioned by telephone. The survey's sampling error is plus or minus 3 percentage points.
CNN Deputy Political Director Paul Steinhauser contributed to this report
Follow Paul Steinhauser on Twitter: @psteinhausercnn