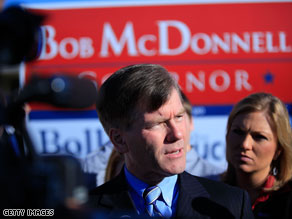 Divided Republicans hope for big victories in VA, NJ.
(CNN) - Voters across the country headed to the polls Tuesday for a series of elections deemed by some analysts as the first major referendum on President Obama's young presidency.
The direction of a sharply divided GOP may be at stake. Party leaders, demoralized after landslide defeats in 2006 and 2008, are hoping to win hotly contested gubernatorial races in Virginia and New Jersey to help fuel a nationwide Republican resurgence.
At the same time, upstate New York voters will fill a Republican U.S. House seat in a race that has sparked a vicious fight between GOP conservatives and moderates. The struggle is viewed as a proxy for a national struggle between activists who say the GOP slipped by betraying conservative values and officials who warn that a rightward move would further alienate an increasingly independent-minded electorate.
The split could result in the election of a new Democratic congressman from a region that has backed Republican congressional candidates since 1872.