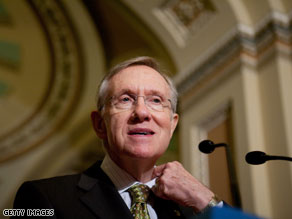 Reid: No timetable for Senate approval of health care bill.
WASHINGTON (CNN) - Senate Majority Leader Harry Reid refused Tuesday to offer a prediction for when the chamber would pass a health care bill, possibly signaling difficulty in generating support from his entire Democratic caucus.
President Barack Obama has said he wants to sign a health care bill this year, and both the House and Senate are expected to take up differing versions of comprehensive proposals in coming weeks.
However, Reid declined to offer a timetable when asked at a news conference if he believed the Senate would pass the bill this year.
"First of all, we're not going to be bound by any time lines," Reid said. "We need to do the best job we can for the American people. We want quality legislation, and we're going to do that."

Republicans are unanimously opposed to the Senate health care bill compiled by Reid from two proposals passed by different committees. The measure includes the controversial government-run public health insurance option, with an opt-out provision for states as a possible compromise for conservative and moderate Democrats.
In addition, at least one key senator from the Democratic caucus has rejected the Reid plan. Independent Sen. Joe Lieberman of Connecticut said Sunday he would vote to allow Senate debate on the measure, but would join a Republican filibuster if the final version after amendments includes a public option.
Lieberman holds particular sway in the Senate debate because he is part of the Democratic caucus, which holds the 60 seats necessary to block a promised Republican filibuster. If Lieberman joins a GOP filibuster, the bill cannot pass unless a Republican decides to support it.
Some moderate Democratic senators also have expressed concern about the public option.
On Tuesday, Reid outlined the next steps for Senate consideration of the bill, saying the measure must be submitted to the non-partisan Congressional Budget Office for a cost analysis, then presented to both the Republican and Democratic caucuses for review. It also will be posted on the Internet for public consumption, he said.
"We're going to do this legislation as expeditiously as we can, but we're going to do it as fairly as we can," Reid said.
Both the House and Senate versions of comprehensive health care legislation currently include some form of a public option.
Obama and Democratic leaders call the non-profit public option the best way expand access to coverage and hold down costs by bringing competition for private insurers. Republicans say the public option would drive private insurers from the market, leading to an eventual government take over of health care.
Overall, the House bill differs from the Senate version in a number of critical ways. The House bill would raise revenue to pay for health care
changes through a tax surcharge on those people who make more than $500,000 a year, while the Senate plan would impose a new tax on high-end health care policies, dubbed "Cadillac" plans by critics.
A number of House Democrats oppose taxing the expensive policies, arguing that such a move would hurt union members who have traded higher salaries for more generous benefits. However, a tax surcharge on the wealthy is considered unlikely to pass the Senate.
Both versions would fine people for failing to have health insurance, but include a hardship exemption for poorer Americans.
Once both chambers have passed health care bills, any differences would be resolved by a conference committee comprising members of both the House and Senate. A revised measure would need final approval from each chamber before going to Obama to be signed into law.