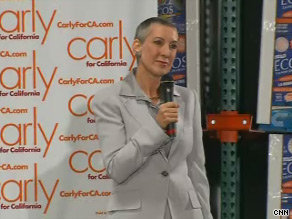 Carly Fiorina is running for Senate.
Updated at 1:30 p.m. ET with Fiorina's remarks
(CNN) - Former Hewlett-Packard CEO Carly Fiorina finally made it official Wednesday: She's running for Senate in California.
The first woman to lead a Fortune 500 company made the announcement at an event in conservative Orange County, pledging her focus will be on "economic recovery and fiscal accountability."
"The decisions made in Washington impact every family and every business, of any size, in America. Throughout my career I've brought people together and solved problems and that is what I plan to do in government-set aside ego and partisanship and work to develop solutions to our problems," she told supporters.
"I will not settle for a jobless recovery and we must start the important work of getting our financial house back in order," Fiorina added. "Washington must show discipline to cut spending and create policies that encourage and empower businesses and put people back to work."
Fiorina, considered to be a moderate Republican with little history on social issues, will face off against conservative California Assemblyman Chuck DeVore for the GOP nomination. In a friendly statement Wednesday, DeVore said he looks forward "to engaging [her] on the issues Californians care about."
A recent Field poll suggested both Fiorina and DeVore polled at about 20 percent, with 60 percent of Republican voters undecided.
Follow Alex Mooney on Twiter @awmooneycnn