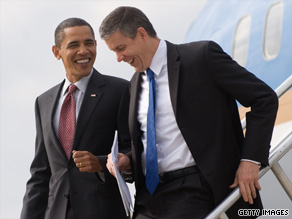 Education Secretary Arne Duncan joined President Obama on a trip to Wisconsin Wednesday where Obama spoke about education reform.
MADISON, Wisconsin (CNN) - President Barack Obama took his education reform campaign on the road Wednesday, highlighting a new $4.35 billion grant program designed to encourage higher standards and stronger teacher recruitment, among other things.
The "Race to the Top" fund is one of the largest federal investments in school reform in U.S. history, Obama said. It is being financed with money made available through the economic stimulus plan enacted in February.
"We're putting over $4 billion on the table ... but we're not just handing it out to states because they want it," Obama told an audience at a Wisconsin public charter school.
"If you're committed to real change in the way you educate your kids, if you're willing to hold yourselves more accountable and if you develop a strong plan to improve the quality of education in your state, then we'll offer you a big grant to help make that plan a reality."
The president outlined four key reform measures that will be used to help determine a state's eligibility for grant money.

First, it will need to adopt rigorous, international benchmarked standards.
The goal is not merely to encourage "teaching to the test," he said. It's about "finally getting testing right."
Second, the state will need to demonstrate a commitment to policies designed to encourage the recruitment and retention of effective teachers and principals. Conversely, teachers that fail to adequately perform need to be removed, he said.
Third, it will need to design systems to measure student success.
Finally, federal officials will examine whether a state is taking steps to overhaul its lowest-performing schools.
"We'll look at whether they're willing to remake a school from top to bottom, with new leaders and a new way of teaching," Obama said. The process of doing so may include replacing a school's staff or even closing a school and sending its students to a better one nearby, he noted.
In order to be eligible for the grants, states cannot have rules prohibiting the linkage of data on student achievement to teachers and principles for evaluation purposes, the White House noted.
Competition for the grants will be conducted in two rounds, according to administration officials. The first round starts later this month; the second will occur in June 2010. Grant winners will be announced in April and September of 2010.