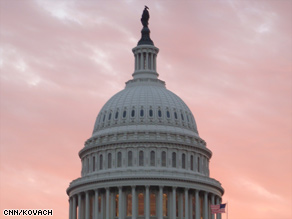 The CNN Washington Bureau's morning speed read of the top stories making news from around the country and the world.
WASHINGTON/POLITICAL
For the latest political news: www.CNNPolitics.com.
CNN projects Republicans win governor races in Virginia, New Jersey
A Republican Party that struggled in the wake of recent Democratic landslides sprang back to life Tuesday with wins in hotly contested races for governor in Virginia and New Jersey, according to CNN projections.
CNN: Ten key election races and results
Tuesday's off-year election might not have the high stakes of the 2008 presidential election, but several significant races are worth watching:
CNN: Analysis: Elections not a referendum on Obama
Victories in New Jersey and Virginia Tuesday provided a major shot in the arm for the Republican Party heading into the 2010 elections, but the Democratic losses of these two governorships should not be interpreted as a significant blow to President Obama.
CNN: McDonnell turns back Democratic tide in Virginia
Buoyed by support from independent voters and lingering concerns over the state of the economy, Virginians elected Republican Bob McDonnell the 71st governor of the Commonwealth on Tuesday.
CNN: Christie win completes GOP gubernatorial sweep
Republican Chris Christie defeated incumbent Democratic Gov. Jon Corzine Tuesday, giving the GOP a rare Northeast win and a sweep of the night's gubernatorial races.
CNN: Democrats win New York congressional race, but conservatives claim victory too
The three-way race in New York's 23rd congressional district ended Tuesday night with a surprise Democratic win – the first for the party in the reliably-Republican district since the 19th century.
Bangor Daily News: Gay marriage repealed in Maine
Voters on Tuesday repealed the state's same sex marriage law after an emotionally charged campaign that drew large numbers to the polls and focused national attention on Maine.
Seattle Times: R-71 winning big in King County, slightly ahead statewide
Backers of a referendum that would extend "everything but marriage" benefits to same-sex couples post early lead.

San Francisco Chronicle: Garamendi beats field for Tauscher's seat
Democratic Lt. Gov. John Garamendi is heading to Washington, D.C., today to be sworn into Congress after beating four other candidates in a special election to fill the Congressional seat vacated by Rep. Ellen Tauscher, D-Walnut Creek.
CNN Poll: More Americans are saying that things are going well
The number of Americans who think things are going well in the country today is at its highest level in two years, according to a new national poll.
CNN: Months into Obama's presidency, promise of 'change' is a slow go
On that unusually balmy Chicago night a year ago, the candidate who campaigned on what he called the "fierce urgency of now" became the president-elect who needed time.
Washington Post: Dodd to go alone with draft for financial reform
Senate Banking Committee Chairman Christopher J. Dodd (D-Conn.) plans to circulate a draft bill of sweeping financial reforms as soon as next week that breaks with the Obama administration and the House on two key issues, officials said.
CNN: Aides: Obama not watching election returns
President Obama is not planning to watch Tuesday nights election returns, Obama aides Robert Gibbs and David Axelrod tell CNN.
Wall Street Journal: White House Tally Appears to Overstate Stimulus Jobs
The number of jobs the Obama administration credits to federal stimulus money could be overstated by at least 20,000 of the 640,000 claimed, a Wall Street Journal analysis found.
CNN: Exit poll: Obama not a big factor in Virginia
There's been plenty of talk by political pundits that Virginia's gubernatorial contest was a referendum on President Barack Obama, but voters don't agree, according to data from CNN exit polls of people voting Tuesday in that state's gubernatorial contest.
Washington Post: Governor's agenda flagging, but not ratings
Faced with a record budget shortfall and uncooperative Republican lawmakers, Timothy M. Kaine's legacy as Virginia governor has largely been built on his political gains: helping his party win a pair of U.S. Senate seats, taking control of the state Senate and delivering the Old Dominion for a Democratic presidential candidate for the first time in more than four decades.
CNN: Exit poll: Economy concerns New Jersey voters most
The economy was the most important issue on the minds of New Jersey voters Tuesday, early CNN Exit Poll data showed.
CNN: German Chancellor Merkel addresses Congress
Six days before the 20th anniversary of the fall of the Berlin Wall, German Chancellor Angela Merkel addressed a joint meeting of Congress on Tuesday and challenged U.S. lawmakers to tear down other walls.
Los Angeles Times: Senate Republicans boycott climate meeting
Their move, shortly before German Chancellor Angela Merkel urged Congress to act on the issue, underscores the difficulty of negotiating legislation on global warming.
Wall Street Journal: Lawmakers Score Ticket Deal
Tickets for Wednesday's World Series game are nearly impossible to come by at face value. But that isn't the case if you are a member of Congress or one of their aides.
CNN: Clinton lauds oldest Peace Corps volunteer, an 85-year-old
U.S. Secretary of State Hillary Clinton Tuesday praised as "one of the best" the oldest Peace Corps volunteer in the world, an 85-year old Florida woman serving in Morocco.
CNN Poll: Americans divided in battle for Congress
With a year to go before midterm congressional elections, a new national poll indicates that Americans are divided over whether they'd vote for the Democratic or Republican candidate in their district.
CNN: Commentary: Get ready for McCain vs. Palin
Right now, the political intelligentsia is consumed with the outcome of a congressional district in upstate New York.
New York Times: Obama Puts Spotlight on Education Grants
The White House intends to use the first anniversary of President Obama's election to showcase his education agenda.
Chicago Tribune: Obama: A day in the life
A year ago, after a historic election, Barack Obama stood before an electrified crowd in Chicago and proclaimed: "This is our moment."
Los Angeles Times: Meg Whitman's campaign spending is causing a stir
The Republican gubernatorial candidate in California has spent $19 million so far, with the election still seven months away. Her pace is called 'unprecedented' by one campaign veteran.
NATIONAL
For the latest national news: www.CNN.com.
CNN: Police: 4 more bodies found at rapist's Ohio home; total now 10
Investigators discovered four more bodies Tuesday at the Cleveland, Ohio, home of a convicted rapist - making a total of 10 since last week, Police Chief Michael McGrath said Tuesday.
CNN: Louisiana justice who refused interracial marriage resigns
A Louisiana justice of the peace who drew criticism for refusing to marry an interracial couple has resigned, the secretary of state's office said Tuesday.
CNN: 3 North Dakota students found dead; foul play not suspected
The bodies of three students at a North Dakota university who had been missing since Sunday were found Tuesday in a vehicle submerged in a pond near their school, police said.
CNNMoney: Chrysler's big uphill climb
Fiat Group will soon unveil its plans to help get the struggling Chrysler Group back on track. But the question that won't be answered is whether these changes will come in time to save the company.
New York Times: Theme Parks Confront Flu Jitters
FOR many Americans, the fear of swine flu has made everyday acts like going to work, going to school or getting on a plane feel fraught with danger — even more so since President Obama recently declared swine flu a national emergency.
CNN: 2 dead, 28 sick from E. coli outbreak
Two people have died and 28 people have fallen ill with matching strains of E. coli after an outbreak in ground beef, the Centers for Disease Control and Prevention said.
CNN: Jury being picked in case of slain Arkansas television anchor
Jury selection was under way for a second day Tuesday in the trial of a man accused in the rape and beating death of an Arkansas television anchor a year ago.
CNN: Phoenix police find more than 1,000 pieces of stolen luggage
Ever flown through Phoenix, Arizona, and had your bag go missing?
CNN: 7th person arrested in gang rape
A seventh person has been arrested in a gang rape on a high school campus in northern California, police said Tuesday.
INTERNATIONAL
For the latest international news: http://edition.cnn.com/
CNN: Karzai calls for unity, end to corruption in Afghanistan
Making his first public appearance Tuesday since being declared the winner in a disputed election, Afghanistan's President Hamid Karzai vowed to stamp out corruption and work with the Taliban in his third term in office.
CNN: Obama notes hostage crisis as rallies expected in Iran
As marchers gathered on the streets of Tehran on Wednesday, the 30th anniversary of the U.S. Embassy takeover, U.S. President Barack Obama nudged Iran on making choices for its future.
CNN: Iran reformists warned on anniversary
Shouts of "Allahu Akbar," or "God is great," a sign of continuing protest in Iran, could be heard Tuesday night in north and west Tehran, along with shouts of "death to dictator."
New York Times: Iraq Swears by Bomb Detector U.S. Sees as Useless
Despite major bombings that have rattled the nation, and fears of rising violence as American troops withdraw, Iraq's security forces have been relying on a device to detect bombs and weapons that the United States military and technical experts say is useless.
CNN: North Korea produces plutonium with 'weapons potential'
North Korea has completed reprocessing thousands of spent fuel rods, producing plutonium which could be used in nuclear weapons, state-run media reported Tuesday.
Los Angeles Times: Palestinians who see nonviolence as their weapon
Mohammed Khatib and his West Bank supporters hope to rally others to a peaceful campaign for statehood. But fellow Palestinians seem largely indifferent, and Israel's army is not amused.
CNN: Killings close Venezuelan-Colombia border
Two international bridges between Venezuela and Colombia remained closed, as Venezuelan authorities searched for three people and arrested a fourth suspected in the shooting death of two national guardsmen.
CNN: U.S. diplomats land in Myanmar for meetings
Two U.S. diplomats arrived in Myanmar Tuesday and will meet with imprisoned pro-democracy leader Aung San Suu Kyi.
Washington Post: India's space ambitions taking off
In this seaside village, the children of farmers and fishermen aspire to become something that their impoverished parents never thought possible: astronauts.
CNN: British mercenary pardoned over Equatorial Guinea plot
British mercenary Simon Mann, jailed last year for his part in plotting a coup in Equatorial Guinea, has been granted a presidential pardon, the country's Information Ministry said Tuesday.
CNN: China's 'godmother' sentenced to 18 years, state media says
A court sentenced a Chinese crime boss known as the "godmother of the underworld" to 18 years in prison Tuesday, state-run media reported.
CNN: Czechs sign EU Lisbon Treaty as last obstacle falls
Czech President Vaclav Klaus signed the European Union's Lisbon Treaty Tuesday, he announced on his Web site, paving the way for major changes to the way the 27-nation bloc is run.
BUSINESS
For the latest business news: www.CNNMoney.com.
CNNMoney: CIT's long goodbye
When CIT Group filed for bankruptcy Sunday, it wasn't much of a surprise. The once-dominant small business lender has been largely sidelined for more than a year.
Wall Street Journal: Fears of a New Bubble as Cash Pours In
Concerns are mounting that efforts by governments and central banks to stoke a recovery will create a nasty side effect: asset bubbles in real-estate, stock and currency markets, especially in Asia.
CNNMoney: Chrysler's big uphill climb
Fiat Group will soon unveil its plans to help get the struggling Chrysler Group back on track. But the question that won't be answered is whether these changes will come in time to save the company.
CNNMoney: These 5 health care culprits cost $1 trillion
As the nation tries to deal with its annual $2.2 trillion health care pricetag, there's a way you can help save as much as $1 trillion: Take better care of yourself.
In Case You Missed It
To watch the latest interviews and reporting: http://www.cnn.com/video.
CNN: Cuba's female umpire
What its like to be the only female umpire in Cuban baseball in the latest installment of The World at Work.
Subscribe to the CNN=Politics DAILY podcast at http://www.cnn.com/politicalpodcast.
And now stay posted on the latest from the campaign trail by downloading the CNN=Politics SCREENSAVER at http://www.CNN.com/situationroom.