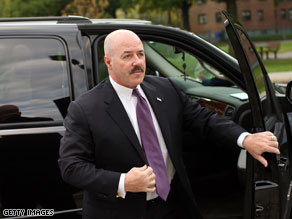 Kerik pleads guilty to misleading White House.
White Plains, New York (CNN) - Former New York Police Commissioner Bernard Kerik on Thursday pleaded guilty to giving false statements to Bush administration officials who vetted his unsuccessful 2004 nomination for homeland security secretary.
Kerik, 54, also indicated that he would admit to tax violations as part of a plea agreement in exchange for a recommended sentence of less than three years in prison.
Kerik had been scheduled to go to trial next week on a variety of corruption charges, including allegations that he received and concealed benefits of about $255,000 in renovations to his Riverdale, New York, apartment from a company seeking to do business with the city of New York.
In December 2008, prosecutors charged him with making several false statements to the White House and other federal officials when he applied for positions in the Bush administration, including his nomination to be secretary of the U.S. Department of Homeland Security.
In 2006, he pleaded guilty to accepting tens of thousands of dollars in gifts while he worked as city corrections commissioner, but under his plea agreement he paid $221,000 in fines and avoided jail time. His admission dogged the 2008 presidential campaign of his longtime patron, former New York Mayor Rudy Giuliani, who admitted his endorsement of Kerik had been "a mistake."
–CNN's Mary Snow contributed to this report.