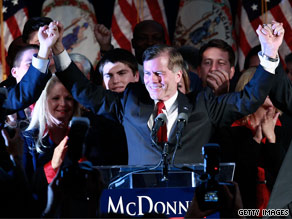 Republicans are pointing to Bob McDonnell's winning formula in Virginia as a way forward for the GOP.
RICHMOND, Virginia (CNN) - He has yet to been sworn in as the 71st governor of Virginia, but the Republican Party appears to have found its newest superstar in Bob McDonnell.
With his resounding win Tuesday in the battleground state of Virginia - a victory that halted a decade of gains for Democrats - top Republicans are boasting that McDonnell has uncovered a winning GOP formula for 2010 and beyond.
The blueprint, his supporters argue, is fairly simple: stay loyal to conservative principles, maintain a personal appeal that connects with voters, and focus like a laser on kitchen table issues.
Throughout the governor's race, Democratic candidate Creigh Deeds flogged McDonnell as a divisive social conservative preoccupied with issues like abortion, same-sex marriage and birth control. But McDonnell beat back those attacks by concentrating on the troubled economy with a simple message: "Bob's for Jobs."
"McDonnell is a candidate who is very conservative, but he's while he's philosophically sound, he's temperamentally moderate," said Ralph Reed, the former Christian Coalition director who is a longtime friend of McDonnell's. "He's a consensus builder. He's a reasonable guy. I think that's the kind of face Republicans need to start putting forward."