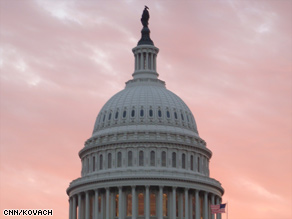 The CNN Washington Bureau's morning speed read of the top stories making news from around the country and the world.
WASHINGTON/POLITICAL
For the latest political news: www.CNNPolitics.com.
CNN: Health care bill ready for full House
House Democratic leaders have put the finishing touches on their health care bill and could bring it to the full chamber as soon as Friday.
CNN: The West is tough terrain for Democrats
The western United States, with its independent streak and growing population, is the terrain both political parties are hoping to mine for electoral gains in the coming years.
Wall Street Journal: Clash Looms on Banks
A key Senate lawmaker is readying legislation that would dramatically redraw how the financial system is regulated, setting the chamber on a collision course with both the House of Representatives and the Obama administration, which have championed markedly different approaches.
Wall Street Journal: Senate Alters Taxes for Big Companies
The Senate on Wednesday passed legislation that would give tax breaks to big companies hit by the recession and expand a credit for homebuyers, while raising other corporate levies, particularly for multinationals.
New York Times: Haggling Over Abortion Deal in Health Bill
House Democratic leaders struggled Wednesday to strike a deal that would restrict the use of federal money to pay for abortions under sweeping health care legislation headed for debate on the House floor this week.
CNNMoney: Senate throws a lifeline to the jobless
After weeks of partisan debate, the Senate voted on Wednesday to lengthen unemployment benefits by up to 20 weeks and to extend the $8,000 homebuyer tax credit.
CNN: Months into Obama's presidency, promise of 'change' is a slow go
On that unusually balmy Chicago night a year ago, the candidate who campaigned on what he called the "fierce urgency of now" became the president-elect who needed time.
Washington Post: For parties, the soul-searching begins
Democrats on Capitol Hill began a nervous debate Wednesday about the course President Obama has set for their party, with some questioning whether they should emphasize job creation over some of the more ambitious items on the president's agenda.
CNN: GOP continues boycott of committee debate on climate bill
A Republican boycott of Senate committee debate on a major climate change bill continued for a second day Wednesday, frustrating majority Democrats who have threatened to move ahead despite the lack of a GOP presence.
CNN: Axelrod calls NY-23 'only national race of consequence'
Top White House aide David Axelrod brushed off Democratic electoral losses in Virginia and New Jersey Wednesday, calling the congressional race in New York's 23rd district the "only national race of consequence."
CNN: Kaine downplays Democratic losses in Virginia and New Jersey
Assessing the national political landscape on the morning after his party lost two closely-watched gubernatorial elections, Democratic National Committee chairman Tim Kaine said Wednesday that voters shouldn't draw too many conclusions from the two Republican victories as they look ahead to the 2010 midterms.
CNN: Fiorina jumps into high-profile California Senate race
Former Hewlett-Packard CEO Carly Fiorina finally made it official Wednesday: She's running for Senate in California.
CNN: Independent voters swung Republican in NJ
Republican Chris Christie defeated incumbent Democratic Gov. Jon Corzine Tuesday, giving the GOP a rare Northeast win and a sweep of the night's gubernatorial races.
McClatchy: Small banks didn't cause the mess, but no bailout for them
Just as the housing sector appears to be recovering, gathering problems in the commercial real estate market threaten to become a new drag on the economy.
Washington Times: D.C. climate conference attendees clash
Rep. Edward J. Markey, co-author of the climate change bill that passed the House this summer, predicted Wednesday that the legislation would spur a technological revolution similar to the one that brought affordable satellite dishes and digital cell phones to the marketplace a decade ago.
Washington Post: As GOP celebrates wins, internal ideological battles remain
A rebounding Republican Party is savoring victories in two states that President Obama won last year, but as it tries to build momentum toward what GOP Chairman Michael S. Steele called a "Republican renaissance," it faces troubling ideological fissures within its ranks over how best to reclaim power.
CNN: Palin: NY-23 race 'just postponed until 2010'
Democrat Bill Owens may have won last night's special election in New York's 23rd congressional district – but Sarah Palin said Wednesday that race "is not over."
CNN: Steele calls conservative claims of an NY-23 win off-base
Conservatives declaring victory in New York's 23rd congressional district are way off base – and outsiders like himself shouldn't have any say over the local party's decisions, Republican National Committee Chairman Michael Steele told reporters the morning after the GOP lost the district for the first time in over a century to Democrat Bill Owens.
CNN: Palin gives details on book tour
Sarah Palin says she's gearing up for her highly anticipated book tour later this month, writing on Facebook Tuesday she is "very, very excited to travel the country as she promotes her forthcoming memoir, "Going Rogue: An American Life."
CNN: Huckabee kicks off book tour
'Tis the season for potential 2012 hopefuls to release new books.
Washington Post: McDonnell team rose to challenge in darkest hour
In a 15-hour RV swing through Northern Virginia in late August, there wasn't really time for Robert F. McDonnell, the Republican candidate for governor, to stop along a residential street in West Springfield.
CNN: Obama highlights federal grants for education reform
President Barack Obama took his education reform campaign on the road Wednesday, highlighting a new $4.35 billion grant program designed to encourage higher standards and stronger teacher recruitment, among other things.
Los Angeles Times: FDA seeks to reduce drug dosage errors
In an attempt to reduce the deaths and serious health problems caused by misuse of medication, the Food and Drug Administration is trying to identify the most serious threats and find ways to avoid them.
CNN: Update: Bush, Clinton cancel joint event
A representative for former President Bill Clinton is confirming a report that a scheduled event featuring Clinton and former President George W. Bush has been cancelled by the two ex-presidents.
CNN: Obama's half brother says father abusive
In a new book, the half brother of President Obama claims the father they shared was often drunk and physically abusive.
CNN: Obama calls McDonnell to offer congratulations
Virginia's Republican Gov.-elect Bob McDonnell took a congratulatory phone call from President Obama the morning after his landslide victory over Democrat Creigh Deeds, McDonnell told reporters Wednesday.
The Hill: Letter to Reid on healthcare from former Surgeon General Koop shuts Senate
A letter about healthcare reform to Senate Majority Leader Harry Reid (D-Nev.) from former Surgeon General C. Everett Koop triggered a security scare that briefly shut down much of the Senate on Wednesday.
NATIONAL
For the latest national news: www.CNN.com.
CNN: Smell permeated Cleveland neighborhood where 11 bodies found, residents say
The smell permeated the neighborhood, turning the stomachs of residents and curtailing their outdoor activities.
CNN: H1N1 vaccine arrives for troops in war zones, but not enough
The first shipment of H1N1 vaccine set aside for U.S. troops deployed to Iraq and Afghanistan arrived late Tuesday, but it contains only half the amount requested.
CNN: Pentagon hopes new M-ATV is 'life-saver'
It looks likes a cross between a Humvee and a monster truck, and Pentagon officials hope it can save the lives of U.S. troops in Afghanistan.
Boston Globe: Evergreen Solar to shift some operations to China
Little more than a year after cutting the ribbon at a new factory in Devens built with more than $58 million in state aid, Evergreen Solar today said it will shift its assembly of solar panels from there to China.
Washington Post: Shudder speed
You rip open the envelope and there it is: Another darned photo-enforcement traffic ticket.
Wall Street Journal: Mexican Pot Gangs Infiltrate Indian Reservations in U.S.
Police Chief Carmen Smith says he knows three things about suspected drug trafficker Artemio Corona: He's from Mexico, prefers a Glock .40-caliber handgun, and is quite possibly growing marijuana on the Indian reservation that Mr. Smith patrols.
CNN: 911 tape reveals priest's brief try to summon help before stabbing
A priest who died in his New Jersey rectory from dozens of stab wounds was recorded briefly on a call for help moments before his death, according to a 911 recording.
USA TODAY: Verizon Wireless doubles early termination fee
Starting Nov. 15, Verizon plans to double its early termination fee (ETF) - to $350 - for customers who end their cellphone contracts early. The fee, arriving just in time for the holidays, applies to customers who have a smart phone or other advanced device on a one or two year contract.
CNN: No one is safe until officer's killer is caught, Seattle police say
As a reward for information rose to $85,000 Wednesday, the president of the police union in Seattle, Washington, said no one in the city is safe while the killer of an officer is on the loose.
Seattle Times: Threat to police left at arson site 9 days before officer killed
A note threatening the lives of police officers was left Oct. 22 at the site where four Seattle police vehicles were set afire — nine days before Saturday night's fatal shooting of veteran Officer Timothy Brenton, according to sources familiar with both cases.
Los Angeles Times: Trying to rebuild after 40 frozen years
A 1966 ban on development in a disputed tribal area left many Navajo living in third-world conditions - or forced them out entirely. When the freeze ended, many residents didn't know where to begin.
CNN: Officers 'missed numerous opportunities' in Dugard case
California parole officers "missed numerous opportunities" to discover long-missing Jaycee Dugard while supervising the man now accused of kidnapping and raping her, a state review of the case concludes.
CNN: U.S. serviceman dies in shooting at Mexican strip club
A U.S. serviceman was among six victims of an early morning shooting at a Ciudad Juarez, Mexico, strip club Wednesday, officials said.
CNN: Student's mom: 'We are trying to find you'
The parents of a Virginia Tech student who disappeared last month during a Metallica concert asked Wednesday for volunteers to help conduct a community search this weekend.
CNN: Inmates come to guard's aid in jail attack
Hillsborough County, Florida, Deputy Kenneth Moon was alone at his station at a county jail facility near Tampa when an inmate attacked him with no warning.
INTERNATIONAL
For the latest international news: http://edition.cnn.com/
CNN: Taliban claim 'tactical retreat' in Pakistan
A spokesman for Pakistan's Taliban claims the militants are making a tactical withdrawal from their stronghold of South Waziristan, in response to a two-and-a-half week long Pakistani military offensive.
New York Times: Troop Deaths in Afghanistan Stir British Outcry
The deaths of five British soldiers at the hands of an Afghan policeman with whom they were working have unleashed an outcry in Britain and highlighted the vulnerability of Western troops as they carry out a key part of the counterinsurgency strategy to train more members of the Afghan Army and the police.
New York Times: Karzai's Top Rival Denounces Afghanistan's New Government
The erstwhile rival to President Hamid Karzai in the presidential election's second round held a news conference on Wednesday in which he denounced Mr. Karzai's newly anointed administration as illegal and said that the government would be unable to cope with the problems facing Afghanistan, including security and corruption.
CNN: Paraguay's president replaces military brass amid coup rumors
Paraguayan President Fernando Lugo on Wednesday ordered the replacement of top military commanders, a day after publicly dismissing rumors circulating the capital about a military coup.
CNN: Iranians clash with police on hostage crisis anniversary
Iranian protesters are vowing to continue their anti-government demonstrations into Wednesday night, despite violent crackdowns and arrests.
New York Times: Dissidents Mass in Tehran to Subvert an Anti-U.S. Rally
Iran's beleaguered opposition movement struggled to reassert itself on Wednesday, as tens of thousands of protesters braved police beatings and clouds of tear gas on the sidelines of a major, government-sponsored anti-American rally.
CNN: Italy vows to fight for classroom crucifixes
The Italian government is vowing to fight a European court ruling that crucifixes in classrooms violate students' right to freedom of religion.
CNN: Italy convicts 'U.S. agents' in CIA kidnap trial
Nearly two dozen Americans - most thought to work for the CIA - were sentenced to five years in prison Wednesday by an Italian court for their role in the seizing of a suspected terrorist in Italy in 2003, the prosecutor in the case told CNN.
CNN: U.S. vendors look to Cuban market
Richard Waltzer has a pitch for Cuba: Miller beer and Häagen-Dazs ice cream.
CNN: Disputed evidence in spotlight as Amanda Knox trial nears end
Within weeks of British student Meredith Kercher's death in the vibrant college town of Perugia, Italy, prosecutors and police declared the case closed.
CNN: Croatia, Slovenia sign border dispute deal
The prime ministers of Croatia and Slovenia signed a deal Wednesday to settle a long-running border dispute and remove a key obstacle to Croatia's prospects of securing European Union membership.
BUSINESS
For the latest business news: www.CNNMoney.com.
CNNMoney: Stocks give up gains after Fed
Stocks ended mixed Wednesday, giving up bigger gains after the Federal Reserve kept interest rates unchanged and said it will keep them low for an extended period.
Boston Globe: Frank says he will reconsider derivatives rules
House Financial Services Committee chairman Barney Frank, under fire from some fellow Democrats and consumer groups for carving out what they call loopholes in legislation designed to prevent another economic meltdown, said in a letter released tonight that "there may be a problem here" and that he wants to reconsider.
Bloomberg: Two Days of Talks Said to Sway GM Board, Chief on Opel's Value
General Motors Co.'s board began a meeting poised to sell most of Opel to Magna International Inc. and scrapped the deal after concluding that the money-losing unit could be saved, people familiar with the matter said.
CNNMoney: Can gold hit $1,500?
Gold investors are partying like it's 1849.
In Case You Missed It
To watch the latest interviews and reporting: http://www.cnn.com/video.
CNN: Protests again in Iran
Anti-government protesters demonstrated against Iranian leaders. CNN's Reza Sayah reports.
Subscribe to the CNN=Politics DAILY podcast at http://www.cnn.com/politicalpodcast.
And now stay posted on the latest from the campaign trail by downloading the CNN=Politics SCREENSAVER at http://www.CNN.com/situationroom.