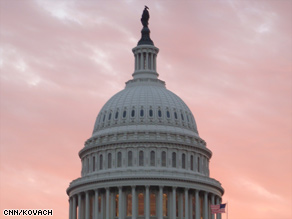 The CNN Washington Bureau's morning speed read of the top stories making news from around the country and the world.
WASHINGTON/POLITICAL
For the latest political news: www.CNNPolitics.com.
CNN: Obama: Fort Hood shootings 'horrific'
President Barack Obama on Thursday called the Fort Hood, Texas, shootings "tragic" and "a horrific outburst of violence."
CNN: Sen. Cornyn: Don't jump to conclusions over Fort Hood shootings
Before making judgments about the shootings at Fort Hood, a thorough investigation needs to take place, Sen. John Cornyn of Texas said Thursday.
CNN: House, Senate hold moments of silence for Fort Hood victims
Both chambers of Congress observed moments of silence Thursday for victims of the shootings at Fort Hood, Texas, and their families.
The Hill: Armed Services panel wants 'detailed accounting' of Fort Hood tragedy
The Senate Armed Services Committee is seeking a "detailed accounting" of a Thursday shooting at Fort Hood, Texas, that left 12 soldiers dead and 31 wounded.
CNN: AMA, AARP back House health care bill
The push to overhaul health care received a major boost Thursday as the American Medical Association and AARP endorsed legislation drafted by top House Democrats.
CNN: Tea Party activists hit the Hill, arrested outside Pelosi's office
GOP leaders and thousands of Tea Party movement protesters gathered on Capitol Hill Thursday to call House Democrats' health care reform bill a full-blown government takeover of the nation' health care system.
CNN: Immigration a stumbling block for health care bill
Disagreement among Democrats over immigration language in the health care bill is complicating efforts by House Democratic leaders to round up votes needed to pass a bill by this weekend.
CNN: Obama pledges new relationship with Native Americans
President Obama said Thursday that the federal government was guilty of mistreating Native Americans in the past and promised to forge a new relationship between the federal government and tribal leaders.
CNN: Valerie Jarrett balances roles of friend, official adviser to Obama
Valerie Jarrett does not like to talk about herself.
CNN: Dems increase majority in House before crucial health care vote
House Democrats are adding two new members to their team Thursday and Friday, just hours before a crucial floor vote on health care reform.
CNN: Senate panel approves climate change bill despite GOP boycott
A Senate committee Thursday approved a major climate change bill despite a boycott by all of the panel's seven Republican members.
CNN: Poll: Potential problems for possible 2012 GOP candidates
A new national poll indicates that more than seven out in 10 Republicans say they would seriously consider voting for Mike Huckabee for president in the next race for the White House, giving the former Arkansas governor more potential support than Sarah Palin, Mitt Romney, or any other Republican tested.
CNNMoney: Congress approves more benefits for jobless
Unemployed Americans are set to get up to 20 additional weeks of jobless benefits, while new homebuyers are poised to see the $8,000 tax credit extended into mid-next year.
CNN: 'Iron Chef' goes to Washington
The first lady of the United States has opened up the White House to the Food Network in an episode of "Iron Chef America" that will air in January.
CNN: Former NYPD commissioner Kerik pleads guilty to lying to White House
Former New York Police Commissioner Bernard Kerik on Thursday pleaded guilty to charges of lying to Bush administration officials who vetted his unsuccessful 2004 nomination to be homeland security secretary
CNN: Palin book tour takes unconventional path
Those living in the country's biggest cities who hope to catch a glimpse of Sarah Palin while she is on her much-anticipated book tour may be disappointed: the former Alaska governor will instead hit a string of mid-size cities, many of which voted for her and John McCain last November.
CNN: FRC PAC endorses Marco Rubio
The FRC Action PAC, the Family Research Council's political action committee, announced Thursday that it's endorsing former Florida state legislator Marco Rubio's 2010 Senate bid.
CNN: Club for Growth takes aim at Crist
Fresh off its considerable impact in New York's special congressional race, the Club for Growth is wading into the Republican Senate primary in Florida with a new ad criticizing Gov. Charlie Crist's initial support of President Obama's stimulus package.
CNN: Crist says he never backed stimulus measure
Florida Gov. Charlie Crist tells CNN he never endorsed President Obama's $787 billion stimulus measure, in what appears to be the latest effort by the Florida Republican to distance himself from the president as he seeks his party's Senate nomination.
Washington Post: GOP House gains intensify competition in N.Virginia
Fresh from an election in which Republicans knocked off several entrenched Democrats in the Virginia House of Delegates, the state's GOP is poised to usher in a new era of tougher two-party politics in Northern Virginia, political observers say.
Miami Herald: Senate rejects effort to block civilian trials for 9/11 suspects
After an emotional debate over how to keep Americans safe, the Senate Thursday narrowly defeated an effort to prevent civilian trials in U.S. courts for the accused planners of the 9/11 attacks.
Washington Post: Ethics committee says Rep. Harman is not under scrutiny
The ethics committee is not investigating Rep. Jane Harman (D-Calif.), whose conversation with an Israeli operative four years ago drew scrutiny from the Justice Department and for a time from the committee.
New York Times: Paterson Is Beginning Ad Campaign for Election
Seeking to dampen continuing speculation that he will drop his quest for election, Gov. David A. Paterson will run his first television ads on Friday, his campaign announced Thursday.
Los Angeles Times: Michelle Obama visits Energy Department
First Lady Michelle Obama asked middle-school students about science during a visit to the Energy Department.
NATIONAL
For the latest national news: www.CNN.com.
CNN: Officials: Fort Hood shootings suspect alive; 12 dead
A solider suspected of fatally shooting 12 and wounding 31 at Fort Hood in Texas on Thursday is not dead as previously reported by the military, the base's commander said Thursday evening.
CNN: Picture begins to emerge of Fort Hood suspect
A picture began to emerge Thursday of the suspect in the Fort Hood shootings as a mental-health professional who had worked to help others in high-stress situations.
Washington Post: Suspect, devout Muslim from Va., wanted Army discharge, aunt said
He prayed every day at the Muslim Community Center in Silver Spring, a devout Muslim who, despite asking to be discharged from the U.S. Army, was on the eve of his first deployment to war. Yesterday, authorities said Maj. Nidal M. Hasan, a 39-year-old Arlington-born psychiatrist, shot and killed at least 12 people at Fort Hood, Tex.
New York Times: Suspect Was 'Mortified' About Deployment to War
Born and reared in Virginia, the son of immigrant parents from a small Palestinian town near Jerusalem, he joined the Army right out of high school, against his parents' wishes. The Army, in turn, put him through college and then medical school, where he trained to be a psychiatrist.
CNN: Alleged shooter's name prompts response from American Muslims
Ibrahim Hooper knows the drill. When news first broke Thursday that a shooting at Fort Hood, Texas, killed and injured U.S. soldiers, the national communications director for the Council on American-Islamic Relations wrote a statement of condemnation.
CNN: Family of teen set on fire gets apology from suspects' mom
She walked to the cameras and could barely look up. With her lip quivering, Sherry Jarvis apologized to the family of 15-year-old Michael Brewer, who is clinging to life in a hospital burn unit.
CNN: Peaceful preaching inside, violent message outside a New York mosque
Outside a Manhattan mosque where the imam preaches against terrorism, the brothers of the "Revolution Muslim" are spreading a different message.
Boston Globe: Credit card firms hurry to raise rates
Credit card companies are rushing to increase interest rates to historic highs of more than 30 percent, cut credit limits, and add new fees, even for customers who pay their bills on time.
Washington Post: Honor rules, CDC urges vendors of H1N1 vaccine
As the public clamors for the still-scarce H1N1 pandemic flu vaccine, a top federal health official on Thursday urged state and local health departments to be on the lookout for the possible diversion of the vaccine to people who don't yet qualify for it.
CNN: New York Yankees manager wins good Samaritan title
It was a busy night for New York Yankees Manager Joe Girardi - not only did he lead his team to the World Series championship, but on his way home, he also helped the victim of a car accident get out of harm's way.
CNN: Two Northwest pilots appeal FAA's decision revoking their licenses
Two Northwest Airlines pilots who overshot the Minneapolis, Minnesota, airport are appealing a decision to revoke their licenses, a National Transportation Safety Board spokesman said Thursday.
CNN: Cleveland official questions handling of complaints about death house
A Cleveland City Council member is calling for an independent investigation into whether police and health authorities in recent months and years should have spotted signs of foul play at a house where 11 bodies were found.
Wall Street Journal: Mother Mourns a Loss Long Feared
When her daughter didn't return home last November, Barbara Carmichael was sad but not surprised. Tonia Carmichael frequently left home for days at a time on drug binges that took her into the darkest corners of East Cleveland.
USA TODAY: Families in Cleveland wait for IDs of victims
Every day has been an exercise in fear and uncertainty for the families of the 14 women who have disappeared from this city's east side.
Washington Post: Environmental groups at odds over new tack in climate fight
A curious debate has broken out among American environmental groups, as the Senate balkily starts to focus on the threat of climate change.
New York Times: Grand Plans for Rail in Denver Hit a Wall of Fiscal Realities
One of the most ambitious one-time mass-transit projects in the nation's history, called FasTracks — $4.7 billion, 122 miles of passenger rail and a hectic construction schedule of only 12 years — was approved by voters here in 2004 along with a regionwide sales tax to pay for it.
CNN: Obesity responsible for 100,000 cancer cases annually
More than 100,000 cases of cancer each year are caused by excess body fat, according to a report released Thursday in Washington.
New York Times: After Setbacks, Small Successes for Gene Therapy
Not long ago, gene therapy seemed troubled by insurmountable difficulties. After decades of hype and dashed hopes, many who once embraced the idea of correcting genetic disorders by giving people new genes all but gave up the idea.
INTERNATIONAL
For the latest international news: http://edition.cnn.com/
CNN: Neda's mother: She was 'like an angel'
The night before she was killed on the streets of Tehran, the woman the world would come to know simply as Neda had a dream. "There was a war going on," she told her mom the next morning, "and I was in the front."
CNN: U.N. head: Timing key to Iran nuclear deal
The outgoing head of the U.N. nuclear watchdog agency said a question of timing is the top issue delaying a nuclear deal between Iran and international powers.
CNN: U.N. pulls 600 staff after Kabul attack
The United Nations said Thursday it would pull about 600 staff members out of Afghanistan in the wake of a militant attack that killed five staff members and wounded nine.
Wall Street Journal: Powerful Afghan Governor Challenges President
An escalating quarrel between Afghan President Hamid Karzai and a powerful governor is stoking fears of bloodshed in one of the country's more peaceful and prosperous provinces.
CNN: Pakistan: Suspected drone strike kills 4
A suspected drone strike killed at least four people in a mountainous border region where the Taliban has long operated, Pakistani officials said Thursday.
CNN: Paraguay's new military brass sworn in
Paraguay installed new top military commanders, but President Fernando Lugo, who had ordered the change in leadership, was not present for the ceremony.
Washington Post: 2 held in deaths of Russian lawyer, reporter
Russian authorities said Thursday that they had solved one of their country's most notorious crimes, charging two alleged neo-Nazi gang members in the brazen killings of a human rights lawyer and a journalist in central Moscow in January.
CNN: Tunnel scam targets dirt-poor Palestinians
Poverty-stricken Gaza, where even the most basic goods are in short supply, has spawned its very own financial scandal - centered on the tunnels that run under the border with Egypt to circumvent the Israeli blockade.
BUSINESS
For the latest business news: www.CNNMoney.com.
CNN: Google releases Dashboard privacy tool
Ever wonder what information Google knows about you? With a click or two, now you can find out.
CNNMoney: Businesses get a break in unemployment bill
The unemployment insurance bill on the way to President Obama's desk won't just help the jobless and the homebuyer. It also includes a long-awaited break for businesses that will let them quickly turn their recent losses into cold cash.
CNNMoney: Shocked into supporting health reform?
By now you're probably accustomed to your health care costs climbing each year. But brace yourself: 2010 is shaping up to be a doozie — a year that could shake up your opinion about how attractive the current employer-provided health care system really is..
In Case You Missed It
To watch the latest interviews and reporting: http://www.cnn.com/video.
CNN: Surveillance video of Hasan
Surveillance video shows Maj. Nidal Malik Hasan at a convenience store Thursday morning before the fatal shootings.
Subscribe to the CNN=Politics DAILY podcast at http://www.cnn.com/politicalpodcast.
And now stay posted on the latest from the campaign trail by downloading the CNN=Politics SCREENSAVER at http://www.CNN.com/situationroom.